November 12, 2021
White Castle Shares Slider Stuffing Recipe for Thanksgiving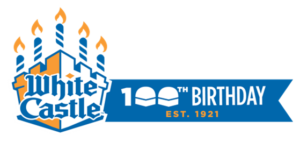 White Castle continues 100-year tradition of making memorable moments by introducing a spicy new stuffing recipe for Thanksgiving.
People often ask about the keys to White Castle's success. Our answer never waivers. Our mission is to create memorable moments every day. For 100 years, White Castle has been a part of our customers' everyday lives and special occasions. From family dinners and late-night snacks to weddings, birthdays and holidays, White castle has made a difference in the lives of millions of people, and this commitment will never change.
It all started in 1921 when founder Billy Ingram opened the first White Castle in Wichita, Kansas. The restaurant sold coffee, Coca-Cola, apple pie and the iconic little square burgers our family-owned business has become famous for. So easy to eat, the 5-cent burgers were dubbed "Sliders" and sold by the sack.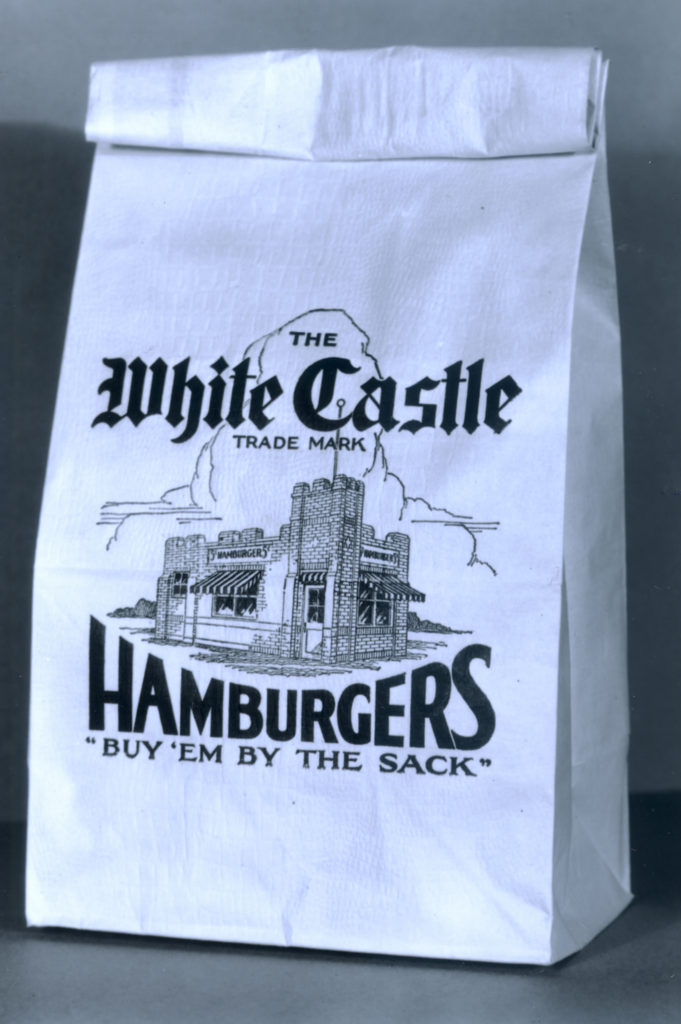 Little did Billy Ingram know at the time that he was not only launching the country's first fast-food hamburger chain, but also introducing a beloved brand that would eventually touch the lives of millions of people and have a significant impact on the country's food industry.
From those humble beginnings 100 years ago, White Castle has become both a successful fast-food restaurant chain and a flourishing consumer packaged goods company. We own more than 360 restaurants in 14 markets and sell our famous fare in frozen food aisles in all 50 states. So whether purchased from a Castle or a grocery store, our Sliders make tasty snacks or satisfying meals. We're a brand that serves up both comfort and convenience.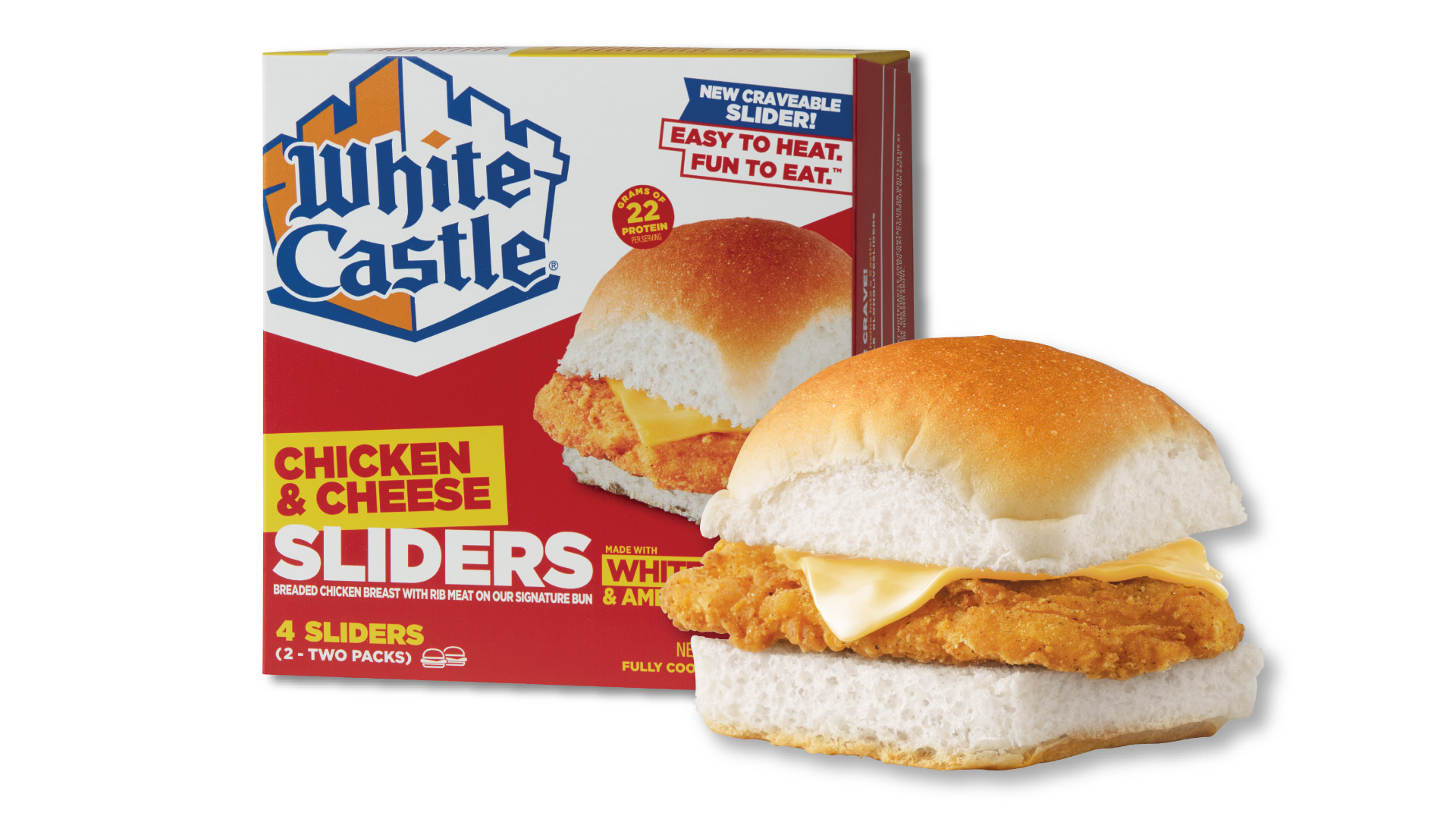 As a family-owned business, we cherish the opportunity to create memorable moments for our customers. One way we can do that is by helping you prepare hot and tasty meals with loved ones at home. That's why we have an entire section on our website listing recipes that feature White Castle Sliders, either fresh or frozen. We introduced our first recipe — The Original Slider® Stuffing — for Thanksgiving in 1991. That was so popular that we began offering additional recipes. Today, our website features over 60 delicious recipes that are sure to delight your friends and family and make mealtime more enjoyable.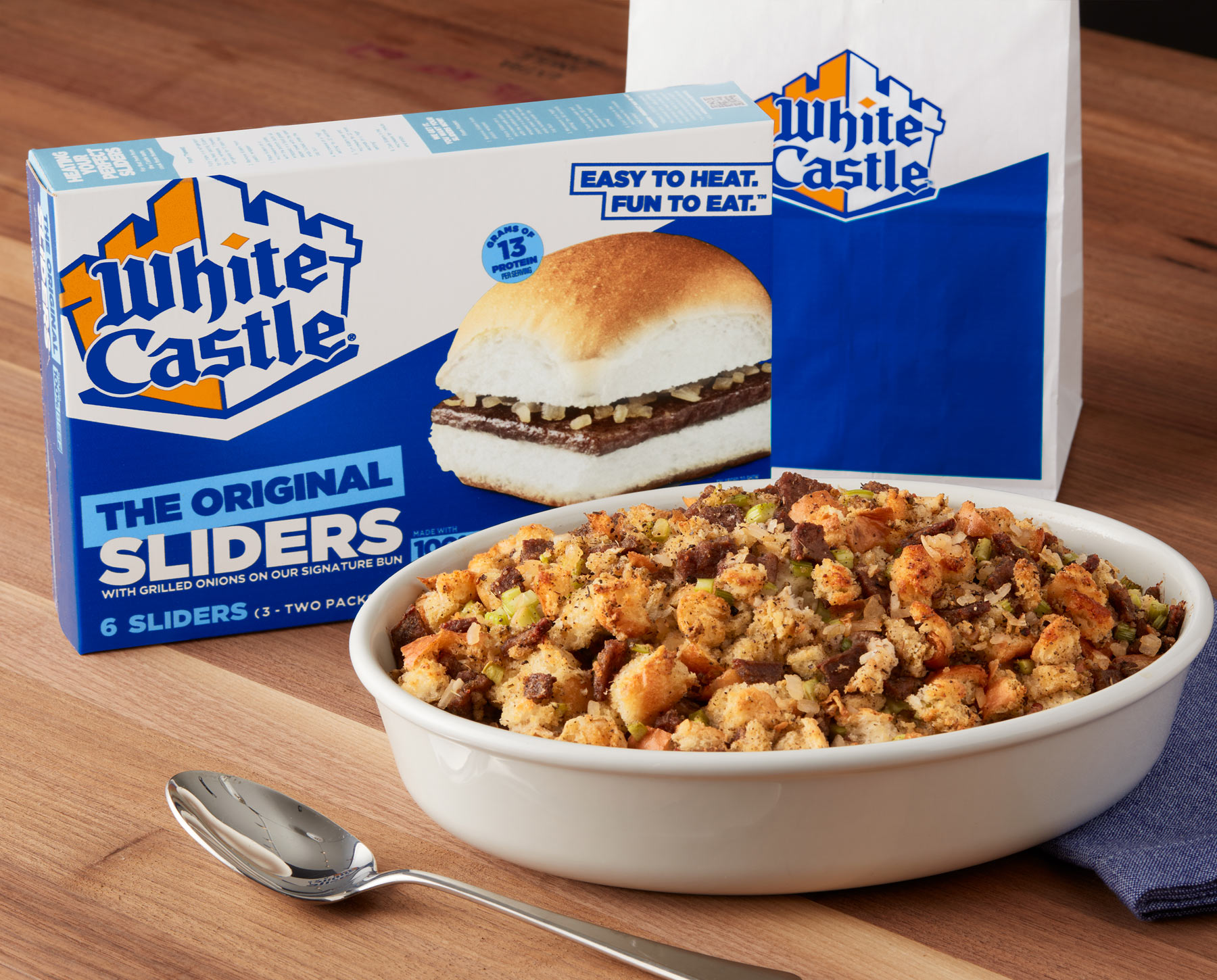 The newest recipe in the lineup arrives just in time for Thanksgiving and Friendsgiving dinner tables — Bacon Jalapeño Cheese Slider Stuffing. As the name suggests, the stuffing uses White Castle's spicy Jalapeño Cheese Slider as the main ingredient.
The Bacon Jalapeño Cheese Slider Stuffing includes pieces of crispy bacon, diced jalapeño peppers, celery, cilantro, cumin and shredded pepper jack cheese, all coming together to create a one-of-a-kind hot-and-spicy flavor.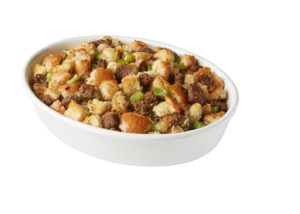 This easy but delicious new stuffing recipe complements our existing stuffing recipes — The Original Slider® Stuffing and White Castle Impossible™ Slider Stuffing. The original recipe came about 30 years ago when a White Castle team member enhanced her grandmother's family stuffing recipe with a sack of Sliders. The result was so tasty that we began promoting the recipe to our customers, who have since made it a traditional part of their Thanksgiving meals.
In 2019, we introduced a slightly revised version of The Original Slider Stuffing to appeal to vegans and vegetarians. Using the plant-based Impossible™ Slider as the main ingredient, the White Castle Impossible™ Slider Stuffing is mixed with celery, vegetable broth, pepper, sage and thyme to make a delectable dish that's craved by non-meat eaters and meat-eaters alike!
If you're looking to spice up your Thanksgiving dinner table, consider serving the spicy Bacon Jalapeño Cheese Slider Stuffing. We promise it will be a welcome addition to your holiday meal.
From the White Castle family to your family, have a wonderful Thanksgiving holiday!
Prep time: 20 minutes
Cook time: 30 to 50 minutes
Servings: 4 to 6
Ingredients:
12 White Castle® Jalapeño Cheese Sliders
10 tablespoons butter
1 cup celery, diced
1 jalapeño pepper, finely diced
10 slices bacon, cooked and chopped (about 1¼ cups)
1½ teaspoons cumin
½ teaspoon pepper
1 teaspoon salt
¼ cup cilantro, chopped
2 eggs
¾ cup turkey or chicken broth
1 cup shredded pepper jack cheese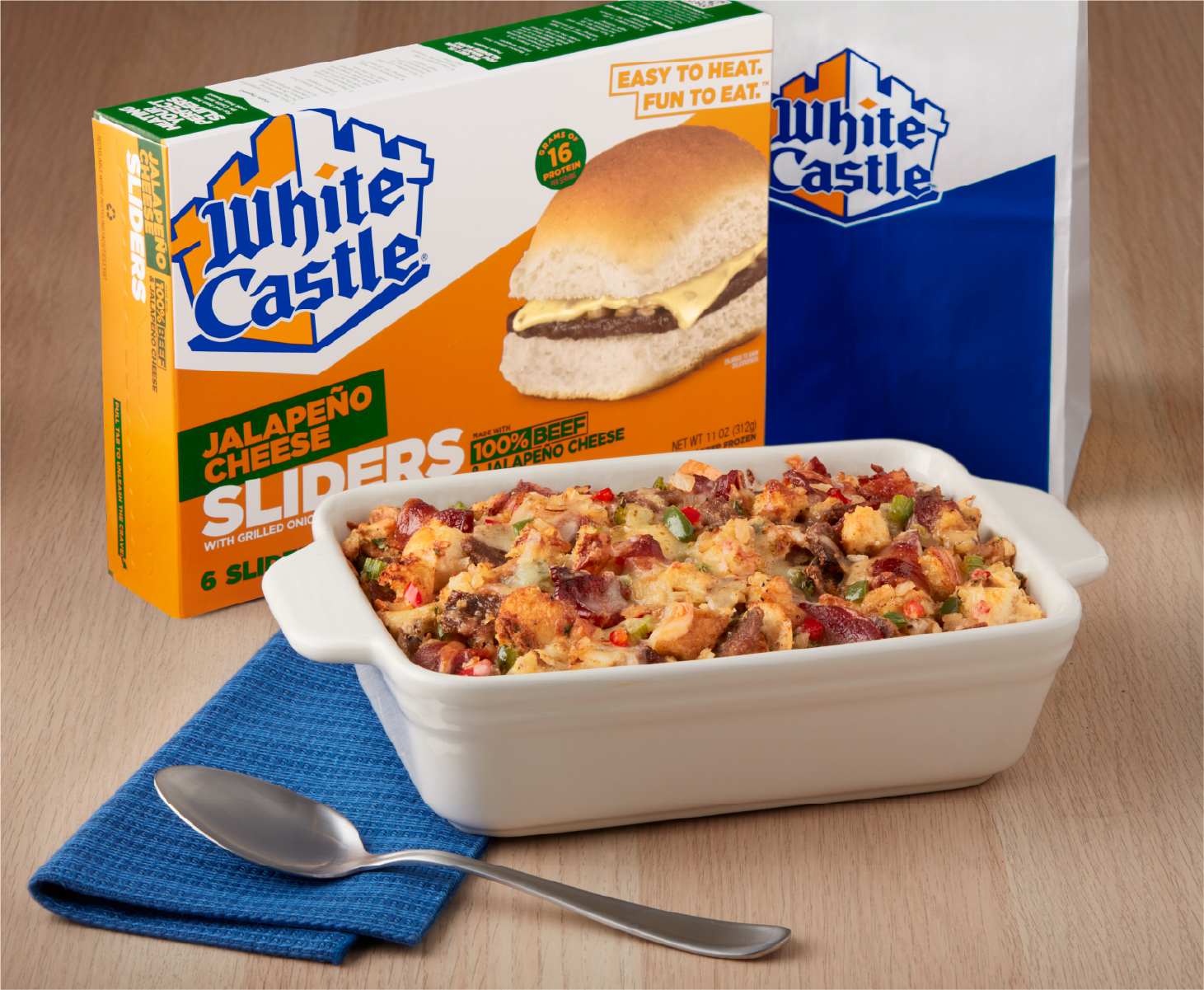 Instructions:
Melt butter in a large skillet over medium heat. Add diced celery and jalapeño pepper and cook until soft.
Heat Sliders according to package instructions. Cut into quarters.
In a large mixing bowl or pan, mix quartered Sliders with the chopped bacon, salt, pepper and cumin. Mix in the cilantro with the celery and jalapeño pepper from the skillet. If cooking the stuffing in the turkey, add the pepper jack cheese here, as well.
In a small bowl, mix the broth and eggs. Pour over stuffing mixture and stir until distributed evenly.
Place stuffing mixture in a 9" x 13" baking dish and top with pepper jack cheese.
Bake at 350 degrees for 30 minutes covered. Then uncover and continue cooking until browned on top, about 15 to 20 minutes more.
About White Castle®
White Castle, America's first fast-food hamburger chain, has been making hot and tasty Sliders as a family-owned business for 100 years. Based in Columbus, Ohio, White Castle started serving The Original Slider® in 1921. Today White Castle owns and operates more than 350 restaurants dedicated to satisfying customers' cravings morning, noon and night. Through its retail division, which launched in 1987, White Castle also offers its famous fare in freezer aisles of grocery, convenience and club stores nationwide. The Original Slider, named in 2014 as Time magazine's "Most Influential Burger of All Time," is served alongside a menu of creatively crafted Sliders and other mouthwatering food options, including White Castle's Impossible™ Slider, named by Thrillist in 2019 as the "Best Plant-Based Fast-Food Burger." White Castle's commitment to maintaining the highest quality products extends to the company owning and operating its own meat processing plants, bakeries and frozen-food processing plants. In 2021, 100 years after the first Slider was sold, Fast Company named the fast-food pioneer one of the "10 Most Innovative Dining Companies." White Castle is known for the legendary loyalty of its team members, more than 1 in 4 of whom have worked for White Castle for at least 10 years, and also for its faithful fans ("Cravers"), many of whom compete each year for entry into the Cravers Hall of Fame. The official White Castle app, available at iTunes App Store or Google Play, makes it easy for Cravers to access sweet deals and place pickup orders at any time. They can also have their orders delivered using one of White Castle's delivery partners. For more information on White Castle, visit whitecastle.com.
White Castle is a member of the National Frozen and Refrigerated Foods Association.