June 9, 2021
Top Dairy Aisle Picks from a Registered Dietitian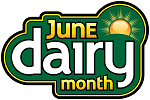 The month of June has been recognized as National Dairy Month since 1939. The latest 2020-2025 Dietary Guidelines for Americans outlines three healthful eating patterns that all include dairy foods. Why? Dairy-based foods provide three of the four nutrients of concern that are typically lacking in American diets: Calcium, Potassium and Vitamin D.
Over the years, the #JuneDairyMonth celebration has evolved well beyond dairy-based staples such as milk, cheese and yogurt, to encompass all foods sold in the refrigerated dairy department. Today's dairy aisle offers versatility and innovation to match shopper's dietary needs and preferences. Whether you are looking for better-for-you options or satisfying treats and indulgences, the dairy aisle has something for everyone! For a little inspiration, check out my Dairy Aisle Shopping List.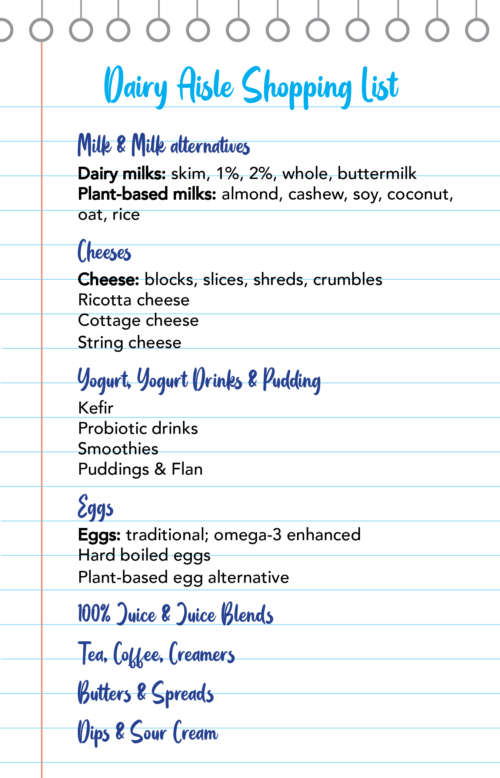 Milk
On my trips to the grocery store, I add three gallons of dairy milk to my shopping cart every week. Not just for the 13 essential nutrients it contains (complete protein featuring all essential amino acids, calcium, vitamin D, Vitamin A, phosphorus, vitamin B 12, riboflavin, pantothenic acid, niacin, zinc, iodine, selenium and potassium), but because my family loves drinking it. I realize I may not be the norm. For those who prefer alternatives to dairy milk, the dairy aisle is packed with more innovative options than ever before. Bear in mind, because the nutrient profiles of plant-based milks vary, many nutrients are 'fortified' or added during the manufacturing process.
Yogurt
Vanilla yogurt is something that I have purchased regularly since my kids started eating their first foods. For variety, I mix in different fresh fruits such as diced peaches, mangos, berries or bananas. I often choose nonfat Greek-style yogurt as a concentrated source of protein at 15 grams protein and 130 calories or less per ¾ cup serving, using the plain version in recipes calling for sour cream or topping it with a drizzle of honey. I recently discovered a total indulgence: triple cream vanilla bean Greek yogurt containing 10% milkfat. Its creamy goodness tastes more like ice cream than yogurt. Try adding a tablespoon as a topping for fresh berries in place of whipped cream or stir it into warm oatmeal with a sprinkle of cinnamon. A little goes a long way at 260 calories per ¾-cup serving.
Cheese
When it comes to cheese, I am a serious fan. Using a small quantity of strong cheese can go a long way to add distinct flavor to meals and snacks. I especially like aged cheeses such as Parmesan, Manchego and sharp cheddar or a tangy, salty feta cheese or creamy Roquefort blue cheese. I use milder ricotta cheese to make lasagna and calzone and keep cottage cheese on hand to pair with strawberries, blueberries, pineapple, peaches or pears as a satisfying snack. When I need portability in a snack, ¾-ounce, individually wrapped string cheese supplies 7 grams of protein and 80 calories.
Eggs
Another dairy aisle staple in my refrigerator is an 18-count carton of eggs. The latest research shows eating a whole egg a day is a healthful choice for healthy populations. A standard large egg contains just 70 calories and essential nutrients including protein, vitamin D, choline (shown to support brain health), selenium, and the antioxidants lutein and zeaxanthin. Some people mistakenly think that brown eggs or cage-free eggs or free-range eggs are nutritionally superior to conventional white eggs. This is simply not true, unless the producing hen's diet is altered. Typically, I buy eggs laid by hens fed a special vegetarian diet rich in omega-3s. These eggs contain less saturated fat and an enhanced level of omega-3 fatty acids (125 mg per egg) compared to conventional eggs.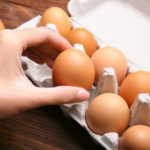 I love eggs for their versatility. Savory preparation methods include poached, baked, fried, hard-boiled or scrambled. Next, choose your favorite pairings such as cheese, ham, spinach, bell peppers, onions, potatoes, guacamole, tomato paste, turkey sausage, toast, tortillas or English Muffins. Then, create custom flavors by adding herbs, spices or sauces including fresh basil, cilantro, chiles, salt, ground black pepper, curry, dill, garlic, oregano, rosemary, sriracha, tabasco, Buffalo sauce and more. Of course, you can also use eggs as an ingredient in a myriad of sweet or savory recipes from French toast and pancakes to quiches, omelets or frittatas. Or join the "Put an Egg on It" trend, by topping grilled burgers, pizza, ramen noodle bowls, avocado toast or shakshuka with eggs cooked over-easy.
Egg dish possibilities are truly endless. Try making an egg dish for dinner like this Spicy Shakshuka. It's an excellent source of choline and a good source of vitamin A and protein.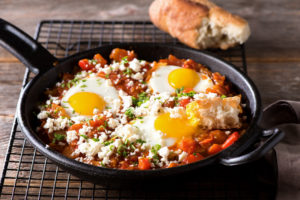 Spicy Shakshuka
Ingredients
3 large whole eggs (or increase 1 egg per serving, up to 8 eggs)
3 Tbsp. olive oil
1 onion, chopped
1 red bell pepper, chopped
2 cloves garlic, minced
1 tsp. each chili powder, ground cumin, paprika
½ tsp. salt
¼ tsp. each ground black pepper, cayenne pepper
3 Tbsp. tomato paste
1 (28-ounce) can whole peeled plum tomatoes, coarsely chopped
¾ cup feta cheese, finely crumbled
¼ cup fresh cilantro, finely chopped
Directions
PREHEAT oven to 400 ° HEAT oil in ovenproof skillet set over medium heat. SAUTÉ onion, red pepper, garlic, chili powder, cumin, paprika, salt, pepper and cayenne for about 5 minutes or until vegetables begin to soften.
STIR in tomato paste; COOK for 1 minute. STIR in canned tomatoes; BRING to a simmer. REDUCE heat to medium-low. COOK, stirring occasionally, for 15 minutes or more until sauce has thickened and tomato mixture begins to caramelize.
MAKE 3 (or as many as 8) divots in the sauce with a spoon; 1 divot per person being served. CRACK an egg into each divot. TRANSFER to oven. COOK 5-8 minutes or until eggs are soft-cooked.
GARNISH generously with feta cheese and cilantro. SERVE with crusty bread slices, lightly toasted naan bread or warmed pita bread for dipping.
Let us know if you give this Spicy Shakshuka recipe a try and share your dairy aisle favorites on facebook, Instagram, twitter or pinterest using #JuneDairyMonth, #DairyMonth, #Dairy and tag us @EasyHomeMeals.
(recipe and photo courtesy of IncredibleEgg.org)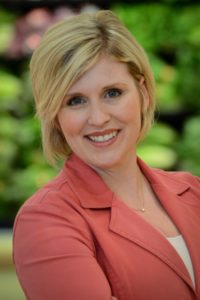 About the Author
Karen Buch, RDN, LDN is a central Pennsylvania-based Registered Dietitian Nutritionist with over 15 years of experience working in grocery retail. As Founder of Nutrition Connections LLC, Karen uses multi-media communications to help consumers make the connection between food, nutrition and health and provides consulting services to various clients within the food industry.