July 14, 2022
Stock Your Freezer With Fun Ice Cream Novelties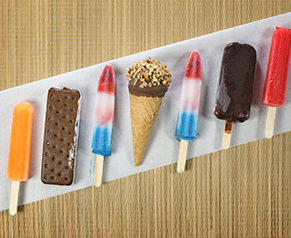 We all scream for ice cream novelties! Who needs an ice cream truck when you can stock your freezer with all the frozen novelties your heart desires. From ice cream sandwiches to cones and popsicles to ice cream bars, there are so many summer favorites and novelties to choose from.
To celebrate Ice Cream Month, we've pulled together some of our favorite novelties:
Ice Cream Sandwiches
Whether you like classic flavors, super chocolatey, cookie or dairy free the ice cream aisle has all the ice cream sandwiches you could ever need!
Ice Cream Bars
Whether you like it on a stick or in candy bar form, there are so many ice cream bars to satisfy your sweet tooth!
Ice Cream Cones
We can all agree that there's something fun about eating ice cream in a cone! You won't be able to resist all of these ice cream cone varieties.
Fruit Popsicles & Italian Ice
If chocolate or traditional ice cream novelties aren't your thing, these fruity popsicles and Italian ices will refresh you on a hot summer day.
What are your must-have ice cream novelties in the summer? Share with us on social media @EasyHomeMeals.