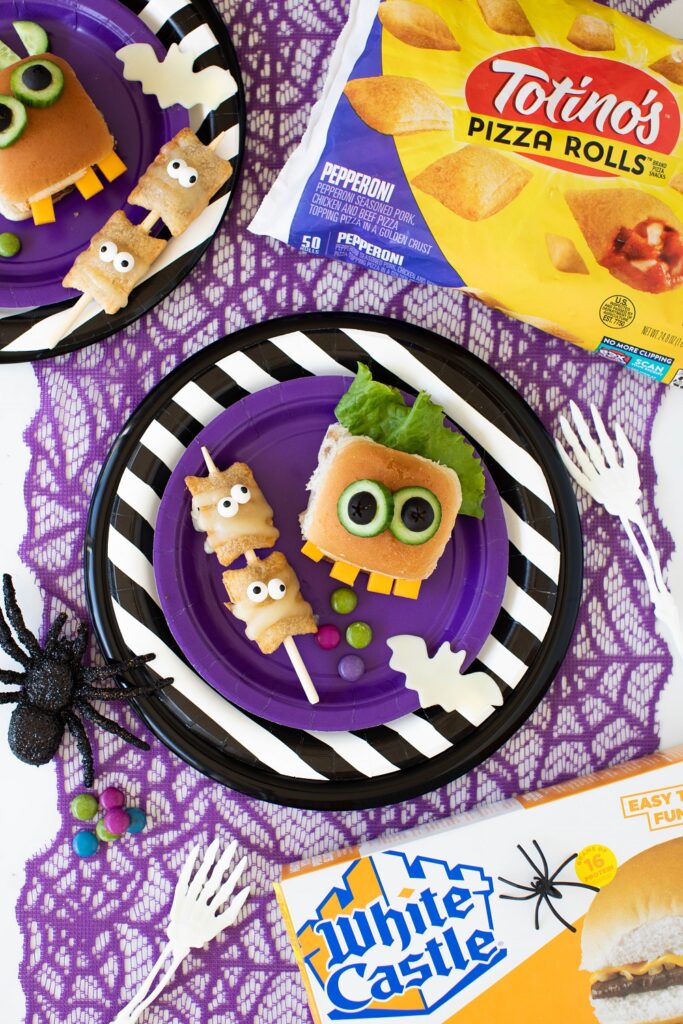 Serving festive snacks for Halloween doesn't have to be haunting. Dawn from Cutefetti just served up a super easy BOO-cuterie idea! Give your favorite Totino's Pizza Rolls & White Castle Sliders a spooky makeover. 
TOTINO'S MUMMIES
Totino's Pizza Rolls (flavor of choice) – prepared according to package oven directions
Provolone cheese slices – cut into small strips (1 slice per 6 pizza rolls)
Small candy eyes (2 per pizza roll)
Small kebab sticks
Once you remove your desired amount of Totino's from the oven, immediately place 3-4 cheese strips onto each pizza roll. Let sit for 5 minutes. If cheese has melted enough to wrap each "mummy", add two candy eyes by pressing into the cheese. If cheese needs a little more melting, return your baking sheet to the oven while it is warm but turned off for 30-40 seconds. Do not over melt the cheese will become too translucent. Then, remove from heat and add candy eyes immediately, then add two pizza rolls to kebab sticks.
WHITE CASTLE SLIDER MONSTERS
White Castle Sliders (flavor of choice) – prepared according to package directions
Mini cucumber slices (2 per slider)
Black olive slices (2 per slider)
Cheddar cheese cracker slices – (1 per slider)
Green Leaf Lettuce (1 Leaf Per Slider)
Once you prepare your White Castle Sliders according to package directions. Under each bun top, place cheese slices for teeth on the bottom and a leaf of green lettuce on the top. Place the bun back on top. Add two mini cucumber slices to the top of the bun and place black olive slices on top of the cucumber slices.
CHEESY BATS
Choice of cheese slices
Bat-shaped cookie cutter
OPTIONAL ADD-ONS:
candies, sliced fruits and vegetables
Use a cookie cutter to make cheesy bats out of the cheese slices.
Prepare Spooky Snack Plates
Arrange Totino's Mummies, Monster Sliders and Cheesy Bats onto a small plate. Serve and enjoy. Add extras like candies, fruits and vegetables to make it your own.