March 22, 2021
Personalize Your Plate with Frozen Foods
Both National Nutrition Month and Frozen Food Month are celebrated every year in March. So let's Personalize Your Plate with frozen foods for the ultimate in nutrition and convenience.
As a Registered Dietitian Nutritionist and busy mom of two school-aged children, I turn to frozen foods as delicious, time-saving ingredients to help me get nutritious family meals on the table fast. Keeping frozen foods on hand means fewer trips to the grocery store and less time spent on meal prep work. Here are ten frozen favorites that I keep stocked in my freezer, along with ways that I use them to personalize my plate.
Frozen Fruit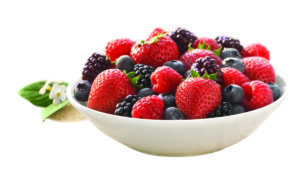 Take a close look at the frozen fruit section of your favorite grocery store. Year around, you can find bags of bite-sized frozen mangoes, peach slices, pineapple, raspberries, strawberries, blackberries and blueberries. I love them all but, if I had to choose, frozen blueberries are probably my favorite. According to the American Institute for Cancer Research (AICR) blueberries are rich in protective plant compounds and may improve brain, eye and heart health along with reducing cancer risk.
Fruit Leather is a great addition to lunch or snack time!
Add frozen blueberries directly to the blender to make smoothies (no extra ice needed)
Use frozen blueberries to top hot oatmeal or chilled vanilla yogurt
Use frozen blueberries to make this fruit leather roll-up recipe that kids will love
Easy Blueberry Fruit Leather Roll-ups
Ingredients
  2 cups frozen blueberries, thawed and rinsed
1 Tbsp lemon juice
3 Tbsp sugar
1 Tbsp frozen orange juice concentrate
1 to 2 Tbsp water (just enough for pourable consistency)

Directions
PREHEAT oven to 200˚F. In a blender, PUREE blueberries, lemon juice, sugar and orange juice concentrate until smooth and. POUR mixture evenly onto a parchment–lined baking sheet. SPREAD into a very thin layer, about 1/8-inch thick. BAKE 6 to 8 hours or until fruit leather is dry in the middle. COOL completely.
Using clean kitchen shears, CUT into long, inch-wide strips. ROLL–UP strips of fruit leather on the parchment paper. REFRIGERATE in airtight zip-top snack bags or container for up to 2 weeks. Just before eating, UNROLL, SEPARATE fruit leather, DISCARD parchment paper and ENJOY!  Makes 10-12 servings.
Frozen Vegetables

Frozen vegetables are always in season because they are picked at the peak of ripeness and preserved using a flash freezing process that locks in flavor and nutrition. Flash freezing reduces crystallization and cell-wall damage to maintain proper texture. Innovative options include veggie souffles, riced cauliflower; spiralized beets, zucchini and squash; and grilled- marinated- and roasted-vegetable medleys. I mix frozen vegetables into quinoa power bowls and brown rice stir-fries featuring egg or tofu, brown rice, soy sauce and toasted sesame seeds. Veggie medleys are key ingredients when making cozy soups, stews and chilis too.
Frozen Tortellini
Frozen Tortellini is one of the quickest and most versatile side dishes. After boiling for just 3-5 minutes, its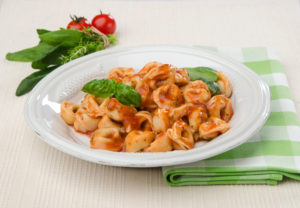 ready to eat. A 28-piece serving has just 310 calories, 3.5 grams fat and 310 mg sodium. Pair with a tomato-based sauce or add colorful, diced bell peppers and shelled edamame with a drizzle of Italian dressing to serve as a cold pasta salad.
Frozen Chicken breasts
I keep individually frozen and boneless skinless chicken breasts on hand to make in the slow cooker, on the grill or in the oven. When making chicken, I use a cook once and eat twice mindset. Not only am I planning the initial meal, but I'm also thinking ahead to a second meal too. For example, when I make slow cooker chicken, I serve half immediately and save half to make pulled chicken bar-b-que. I also save the chicken broth to make risotto, quinoa, cous-cous or soup.
Frozen Fish Fillets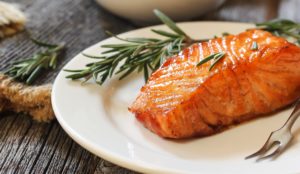 Individually quick frozen (IQF) fish fillets are frozen within hours of the catch. Living in the middle of Pennsylvania, without nearby oceans, I cook frozen fish regularly to meet the American Heart Association recommendation to eat 2 or more 3.5-ounce servings of fish a week.
Salmon is a rich source of essential omega-3s that help reduce risk of cognitive decline, Alzheimer's disease and dementia. My kids love when I make pan-seared salmon fillets finished in the oven with a honey mustard glaze.
Frozen Shrimp
I often choose frozen peeled, deveined, cooked, tail-on shrimp because it is an excellent source of protein that is quick and easy to prepare. A 3-ounce serving packs 13g protein in just 60 calories. In only 15 minutes, you can thaw the shrimp using a cold-water submergence method. It can be served as shrimp cocktail or tossed with broccoli florets, lemon, garlic and linguini. I also use it to make Shrimp and Corn Chowder.
Frozen Meatballs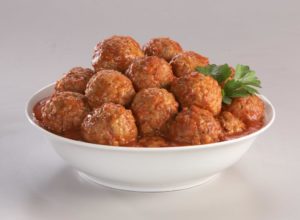 Frozen meatballs offer the perfect combination of great taste and convenience. Because they are fully cooked and come in Italian sauce, I can quickly heat for 20 minutes and serve. Sometimes we opt for traditional spaghetti and meatballs with a Caesar salad. Other nights, I make meat meatball slider sandwiches on mini potato rolls. Frozen beef meatballs are made from 100% beef, whole eggs, Romano cheese, onion, parsley, a pinch of salt and pepper and breadcrumbs—many of the same ingredients I use when I make them from scratch. They are also available in a reduced-fat turkey variety or a plant-based alternative.
Frozen Pizza
Some nights, I remind myself that it's ok to say "yes" to shortcuts. Every Tuesday, I pick the kids up from school, we race through homework, head to gymnastics practice and— three hours later—we are all hungry. Its frozen pizza to the rescue. The kids hit the showers and I pop a frozen, brick-oven style pizza into the oven. While its baking, I have 18 minutes to toss together a salad before calling the kids down for a speedy family dinner.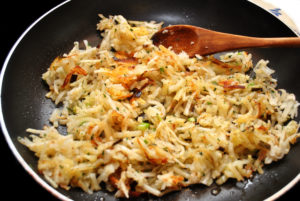 Frozen Potato Shreds
A bag of frozen shredded hash brown potatoes can be the start to many delicious breakfast or dinner side dishes. The hard work of peeling and shredding the potatoes is done for me and the ingredients are just potatoes. I love that they are packaged fat-free. When I cook with frozen hash brown potato shreds, I decide how much oil, butter, salt or seasonings to add to achieve desired flavor and crispiness with fewer overall calories, fat and sodium than French fries.
Frozen Meals
When I choose an individual frozen dinner, it is usually because I am craving a certain flavor or specific restaurant-quality ethnic dish including Asian, Italian or Indian cuisine. Among my favs are Mandarin Orange and General Tso's Chicken, Eggplant Parmigiana, Lobster Ravioli and Chicken Tikka Masala.
What are some of your favorite ways to personalize your plate with frozen foods? We'd love to hear your must-have freezer favorites. Tweet @KarenBuch or share with us @EasyHomeMeals.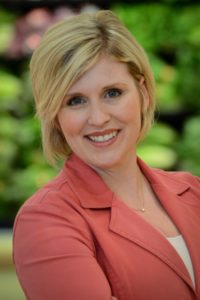 About the Author
Karen Buch, RDN, LDN is a central Pennsylvania-based Registered Dietitian Nutritionist with over 15 years of experience working in grocery retail. As Founder of Nutrition Connections LLC, Karen uses multi-media communications to help consumers make the connection between food, nutrition and health and provides consulting services to various clients within the food industry.