July 20, 2021
Nifty Ice Cream Novelties – Our Favorite Summer Treats
Popsicles. Ice cream sandwiches. Freeze pops, cones, bars, bites and more. Few things scream summer like ice cream novelties. And what's not to love? They're single-serve, dripping with nostalgia and great for all of summer's activities – from firework shows to poolside parties. Plus, they're insanely delicious and indulgently satisfying.
With National Ice Cream Month in full swing, we're highlighting our classic favorites, some new loves and a bunch of fun facts for these convenient creations found in a freezer aisle near you!
DID YOU KNOW?
The current version of the ice cream sandwich was invented in 1945 by Jerry Newberg at Forbes Field in Pittsburgh, PA
Popsicles were originally invented by an 11-year-old boy named Frank Epperson in 1905 when he accidentally left a cup of homemade soda on the porch overnight and it froze around the stirring stick
Pictures from the Jersey Shore circa 1905 show ice cream sandwiches were popular at 1 cent each
The original ice cream truck driver was a man in Nebraska with a horse cart who went around selling popsicles to children
The average number of ice cream sandwiches eaten every second is 48
More than two billion popsicles are sold each year
The first known recipe for ice cream sandwiches called for sponge cakes as the outer sandwich "slices"
Popsicle sticks featured jokes such as "Why was the doctor so calm? He had patients."
Ice cream sandwiches featuring cookies were invented in 1928 in San Francisco when an ice cream vendor put a scoop of ice cream between two oatmeal cookies
TREATS TO TRY THIS SUMMER
Yep – they make the iconic red, white and blue popsicle that's a staple of summer. But they also have a HUGE range of other kid-friendly flavors as well – Hawaiian Punch, Banana Fudge, Warheads and more. Check them out!
These treats are STUFFED with delicious ice cream and sweet pop flavors! Plus, they offer gluten free options!
Mochi is a new dough-wrapped delight that's taking the frozen aisle by storm. And Bubbies has been doing these treats Hawaiian style for over 30 years. Their inventive mochi flavors and delectable cookie dough come in both packs and single-serve.
Speaking of better-for-you, Jolly Llama is all about dairy-free, gluten-free desserts. Their sandwiches and cones are made from coconut cream, and their sorbet pops all contain flavors from real fruit. Doesn't get more refreshing than that.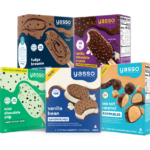 Yasso
Looking for a better-for-you option? Yasso has you covered. Their Greek-yogurt based bars, sandwiches and poppable treats are lower in calories and packed with protein, and not to mention delicious.
One of the original names in novelties, Blue Bunny now features full lines of cones, bars, mini swirls and more.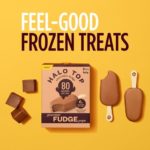 Everyone's favorite low-calorie ice cream brand makes pops as well. They're all 80-110 calories per pop for a guilt-free indulgence. Plus, the ice cream bars are loaded with protein, and the fruit pops are made with real fruit and up to 65% less sugar.
Ending on a classic note. Helping make summer extra sweet since 1913, they now have a full line of cones, pops, bars and even a malt cup. This throwback brand has a great range of modern flavors that the whole family will enjoy.
What's your favorite ice cream novelties treats for summer? Share with us on social media @EasyHomeMeals.