August 21, 2020
Make School Night Meals Easy with Mrs. T's Pierogies
When it comes to back-to-school season, whether students are heading back to the classroom or learning from home, one of the biggest challenges for busy parents remains the same: how to serve up delicious homemade meals the whole family will love. With the right preparation and ingredients on-hand, parents can easily pass the test.
One ingredient to consider adding to your shopping list is Mrs. T's Pierogies. Found in the frozen food aisle, they are stuffed with creamy mashed potatoes, cheesy goodness and other big, bold flavors. Available in 14 varieties, including mini and full size, they can be boiled, baked, sautéed and even grilled, making them a versatile addition to your favorite everyday meals, apps, sides and snacks.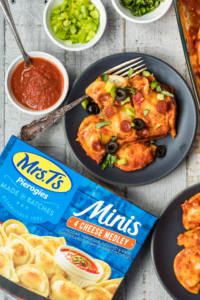 If you're looking for fun ways to spend more quality time with your family this back-to-school season, try getting everyone involved in the kitchen while prepping tasty recipes like Pepperoni Pizza Pierogy Casserole or Pierogy Alfredo.
Check out these recipes and more!
The Cookie Rookie – Pepperoni Pizza Pierogy Casserole
Food blogger Becky Hardin of The Cookie Rookie is constantly thinking up simple, delicious meals that are fit for the whole family. She said: "I happen to have a picky toddler AND a picky husband, so I'm always on the prowl for crowd-pleasers. We also love that this recipe is easily reheated. The flavors are universally loved and the prep is simple. Perfect for those nights when 'what's for dinner?' is a popular question." And absolutely no one will complain when this is what you bring to the table.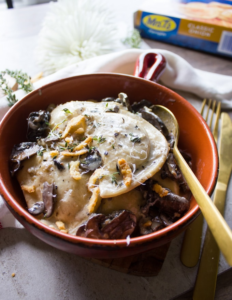 Two Purple Figs – Pierogy Alfredo
This Pierogies Alfredo recipe is one of those one-pot wonders that takes less than 15 minutes from start to finish! It's serious comfort food over here, and best of all, it's kid-friendly so you know your family will want to dig in!
Two Purple Figs — Pierogy Mezze Platter
Creating the Perfect Mezze Platter:
– Choose small bowls that match to go over the Mezze platter for your dips, so they don't spill.
– Start by identifying the center of the board and keep this space for your hero item-the crispy pierogies.
– Place the crispy pierogies in the center and it's best when there's a height. So pile up nice and high!
– Now pick your veggies and fruits that go well with your dips, or that snack well. Be mindful of apples, pears, avocados and other fruits that oxidize quickly.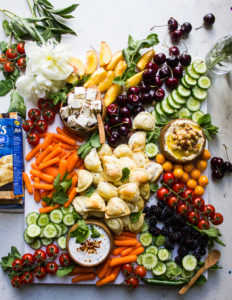 – When arranging the fruits and veggies, try to contrast the colors and textures so the platter is eye catching.
– Accent the platter with fresh herbs, lemon slices if you like and some chili flakes.
Only Girl 4 Boyz – Unstuffed Pepper Pierogies
Mrs. T's Classic Cheddar Pierogies and all your favorite ingredients for stuffed peppers
Jehava created this delicious recipe because she loves stuffed peppers and her family loves pierogies! So she came up with this quick Unstuffed Pepper Pierogies recipe to make everyone happy! She said "Just like that, you will have an amazing meal!"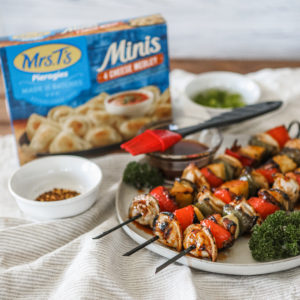 Rachel Quenzer-Sweet & Sour Mini Pierogy Kebabs
Rachel took advantage of grilling season and cooking outside by whipping up this new recipe. She said, "We paired Mrs. T's Pierogies with a homemade sweet and sour sauce, pineapple and peppers to create a fresh dish that's full of flavor and delicious…Your whole family will love this one."
Do you have any kid friendly pierogy recipes? Share your ideas with us on social media @EasyHomeMeals.
Mrs. T's Pierogies is a member of National Frozen and Refrigerated Foods Association.