How to Make a Charcuterie "Snacklebox"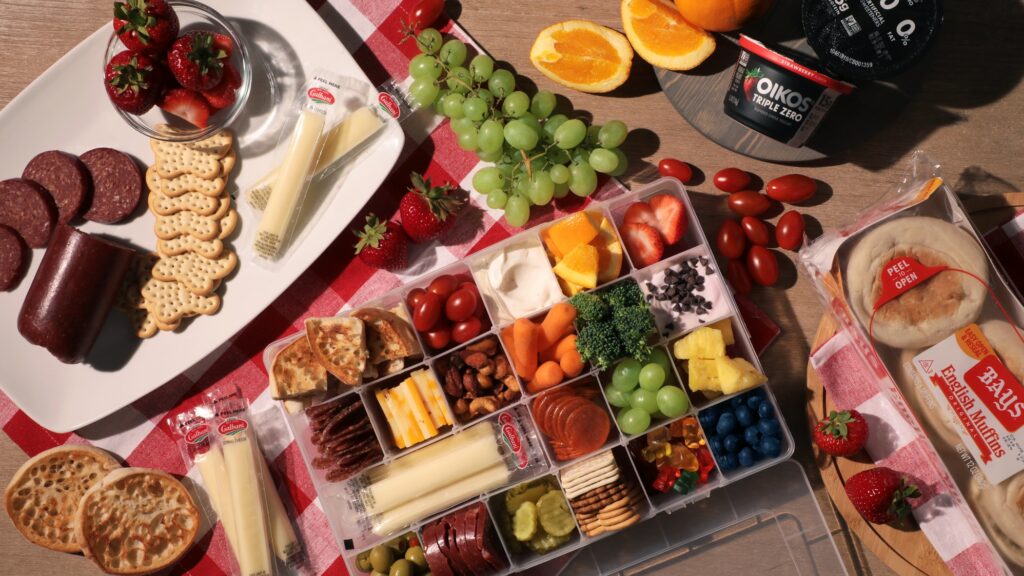 The "snacklebox" is all the rage on TikTok these days. But what is a snacklebox you may ask? Simply put: it's a snack box using a tackle box. Think of it as charcuterie on-the-go! You can customize it any way you like — cheeses, meats, fruits, veggies, nuts, candies, etc. The dividers in the tackle box make it the perfect container. Hint: if adding juicy foods like olives or strawberries, add a layer of plastic wrap to keep the liquid at bay.
Supplies You'll Need:
A tackle box – any size you like!
Cheeses of your choice – cracker cuts, chunks, cubes, string cheese and more
Choice of deli meats – pepperoni, salami, ham, turkey – really any meat you love!
Toasted English muffins, crackers, breadsticks, toasted bagel pieces, pretzels or pita triangles
Fresh cut veggies – tomatoes, broccoli, carrots, celery, etc.
Vegetable dip
Fresh cut fruits – grapes, orange slices, strawberries, blueberries work great!
Yogurt – any flavor, will be used as a fruit dip
Mini-chocolate chips (optional)
Pickles and Olives (if you wish)
Nuts
Candies such as licorice, gummy bears, jelly beans or any kind of sweet treats you desire!
Feel free to add your favorite snacks, too!
Prepping the Container:
Make sure your tackle box is thoroughly washed and dried before filling.
Before adding "juicy" items like pickles and olives, make sure you add a layer of plastic wrap to keep the liquid from leaking under the dividers and soaking your crackers or other soft foods.
Prepping the Food:
If needed, dice cheeses into smaller, bite-sized pieces to fit in the compartments of the tackle box.
Slice meat into chunks, or fold over to fit in the tackle box.
Toast English muffins or bagels and slice into bite-sized pieces.
Wash and cut fresh fruits and veggies into small chunks, if needed. Remove grapes from the vine.
Drain pickles and olives to remove as much liquid as possible.
Assembling the Snacklebox:
Add the veggie dip and yogurt to their compartments.
Next, carefully add pickles or olives to their plastic-wrapped areas.
Add the remainder of the ingredients to the tackle box
For an added touch to the yogurt fruit dip, sprinkle mini-chocolate chips on top.
Tip: 
If you are not planning to eat the snacklebox right away – it's best to put only the refrigerated items in the tackle box. Keep the box refrigerated or in a cooler until you are ready to dive in and snack. Add the non-refrigerated items, like crackers, candy or nuts right before you serve.