December 8, 2020
How to Have a Safe Holiday Gathering
This year has been unlike any other year – full of many challenges – and ensuring you have a safe holiday season is yet another one we're currently facing. With help from the Partnership for Food Safety Education and the Centers for Disease Control & Prevention, there are measures you can take to safely celebrate the holidays.
One step you can take while hosting this season is serving up individual appetizers and desserts at your holiday get-togethers. There are so many shortcuts you can utilize from the frozen food aisle that make safer holiday entertaining a breeze.
If having guests to your home, be sure that people follow the steps that everyone can take to make the holidays safer[1]:
Have a small outdoor meal with family and friends who live in your community.
Limit the number of guests.
Have conversations with guests ahead of time to set expectations for celebrating together.
Clean and disinfect frequently touched surfaces and items between use.
If celebrating indoors, bring in fresh air by opening windows and doors, if possible. You can use a window fan in one of the open windows to blow air out of the window. This will pull fresh air in through the other open windows.
Limit the number of people in food preparation areas.
Have guests bring their own food and drink.
If sharing food, have one person serve food and use single-use options, like plastic utensils.
If attending a holiday gathering in person, follow these additional safety steps[1]:
Bring your own food, drinks, plates, cups and utensils.
Wear a mask and safely store your mask while eating and drinking.
Avoid going in and out of the areas where food is being prepared or handled, such as in the kitchen.
Use single-use options, like salad dressing and condiment packets and disposable items like food containers, plates and utensils.
Host a virtual holiday meal with friends and family who don't live with you[1]:
Schedule a time to share a meal together virtually.
Have people share food and beverage recipes, and show the dishes and drinks you prepared.
Write down things you are grateful for and share with your friends and family during the virtual get-together.
Play games virtually like holiday trivia, board games, white elephant gift exchange, etc.
Other ideas to keep it safe this holiday season[1]:
Safely prepare dishes and edible gifts like cookies, candies, breads, etc. and deliver them to family, friends and neighbors in a way that does not involve contact with others (i.e. porch drop-off).
Celebrate the holidays with loved ones outdoors if the weather allows.
No matter what safety measures you take, be sure to keep washing your hands frequently this holiday season. Caring is NOT sharing your germs!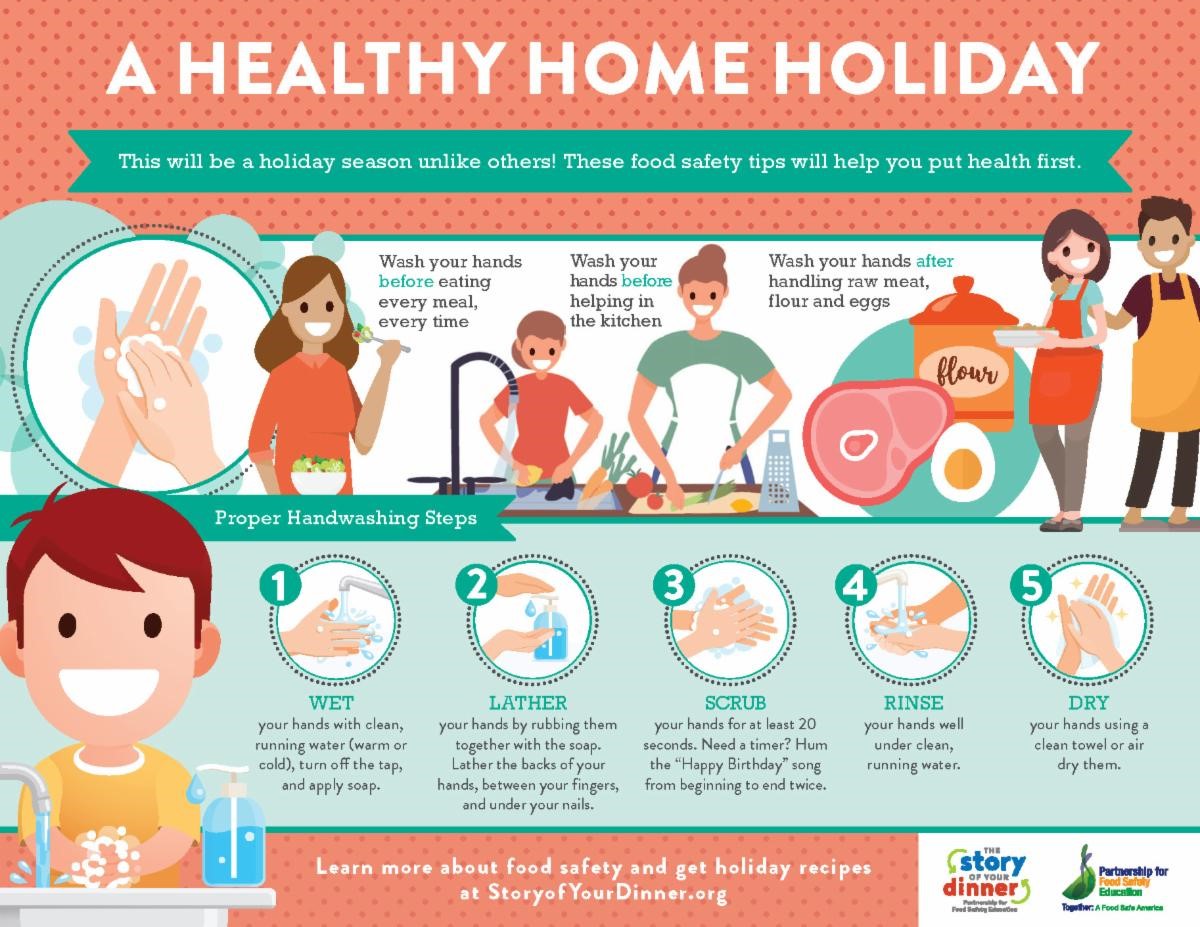 What additional steps will you take to ensure a safe holiday gathering this year? Share with us on social media @EasyHomeMeals.
[1] https://www.cdc.gov/coronavirus/2019-ncov/daily-life-coping/holidays/thanksgiving.html