Game Day Snack Board
This Game Day Snack Board serves up all your favorite snacks including Jose Ole, Totino's, Tai Pei, and Rosina Meatballs.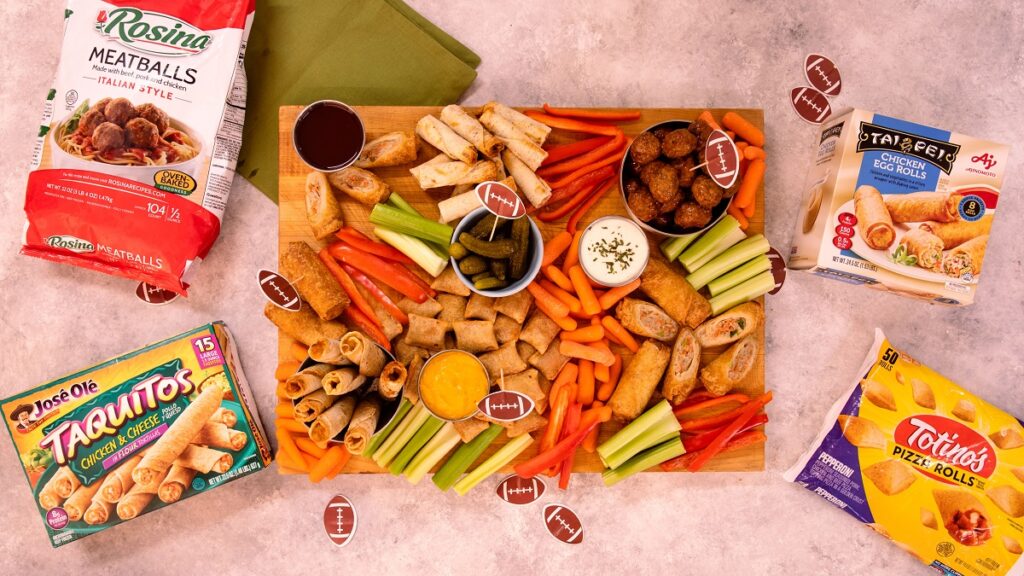 Game day should be full of cheering and snacking! Up your food spread with this easy Game Day Snack Board using convenient and delicious frozen snacks. We built our snack board with Jose Ole Taquitos, Totino's Pizza Rolls, Tai Pei Chicken Egg Rolls, Rosina Meatballs, cut up raw veggies and dipping sauces. Cook your frozen snacks according to package directions. To make the Grape Jelly BBQ Meatballs, follow this simple recipe.
Grape Jelly BBQ Meatballs
Ingredients:
1 bag Rosina Meatballs
1/2 cup Grape Jelly
1 1/2  cup Barbecue Sauce
2 Tbs. Chili Garlic Sauce
Pinch Cayenne Pepper (If you like them spicy!)
Directions:
Combine grape jelly, barbecue sauce, and chili garlic sauce.
To make the Rosina Meatballs, add the meatballs into a crock pot with the sauce.
Cook on low for 3-4 hours and stir halfway through cooking.
After they are done cooking, serve and enjoy!
What would you add to your own Game Day Snack Board? Leave a comment on our Instagram or TikTok #EasyHomeMeals!