September 14, 2021
Family Meals Made Easy
Juggling jobs, kids and the demands of a busy modern life often come at the expense of family mealtime. September is National Family Meals Month™ and back-to-school time is the perfect time to develop new routines that encourage eating more meals together as a family. Frequent family meals enhance family connection and communication, while contributing health and societal benefits to everyone who shares a meal. Research shows, children who learn to cook and eat with their families—more than four nights a week—are more likely to try new foods and on average consume more nutrient-rich foods like low-fat dairy, whole grains, vegetables, fruits and lean meats.
In addition, there are other proven benefits of family meals. A new study, published in the Journal of Nutrition Education and Behavior (JNEB), found more frequent family meals were associated with better dietary outcomes. In fact, regular family meals are linked to many of the kinds of outcomes we want for our children: higher grades and self-esteem, healthier eating habits and less risky behavior. Family meals can help us all stay more connected when positive conversations that happen around the dinner table.
So, what are some simple steps to make more shared family mealtimes happen in your busy home? Use this checklist to de-stress and achieve family meal success!
Be Realistic
Aim to eat together as a family on four or more nights a week.
Keep meals simple and balanced.
It's OK to take meal-prep shortcuts by using pre-cut, refrigerated and frozen foods.
Plan Ahead
Gather family input to develop a family-friendly list of nutritious and delicious meals.
Set time aside to plan and prep meals in advance.
Match meals to your family calendar and plan quick meals on busy nights.
Make it Quick & Easy
Keep a list of go-to dishes you can make in 30 minutes or less.
Stock your kitchen with fresh, refrigerated and frozen staple ingredients.
Cook a double batch to freeze or simply have another meal ready to heat and eat.

Isn't it the best feeling when everyone in the family says dinner is a hit? This recipe for Lasagna Roll-ups is one of my family's favorites. I hope you'll give it a try. Here's why:
-Easy to prep ahead and tastes even better the next day.
-Perfect portions to freeze individually or reheat as needed in the microwave.
-Adding variety is simple with side dishes: bagged salad, frozen broccoli florets or toasted frozen garlic bread.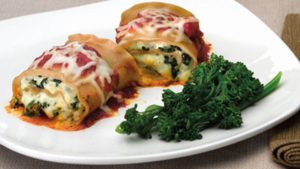 Lasagna Roll-Ups

Prep Time: 20 minutes
Bake Time: 35 minutes
Makes: 8 (2 roll-up) servings
INGREDIENTS
16 lasagna noodles, cooked
2 cups part-skim ricotta cheese
3 cups shredded mozzarella cheese, (reserve 1 cup as topping)
¼-cup shredded Parmesan cheese
1 large egg, beaten
10 oz. package frozen chopped spinach, thawed and squeezed to remove excess liquid
1 (24-ounce) jar pasta sauce
PREHEAT oven to 350ºF. In a medium bowl, COMBINE cheeses and beaten egg. ADD spinach and STIR to BLEND. POUR 1 cup sauce evenly into the bottom of 13 x 9-inch baking dish. SPREAD ¼ cup of cheese-spinach mixture evenly over each cooked noodle. Gently ROLL from end to end and PLACE into pan seam side down. REPEAT with remaining noodles and cheese mixture. SPOON remaining sauce over roll-ups and SPRINKLE with 1 cup reserved mozzarella cheese. COVER with non-stick foil and BAKE for 20 minutes. REMOVE foil and BAKE 15 minutes more or until cheese is melted and lightly browned.
For more than 1500 recipes, how-to videos and more family meal ideas, explore the Easy Home Meals website and subscribe to the blog for family meals delivered right to your inbox. And you can follow Easy Home Meals on all of your favorite social channels: Facebook, Pinterest, Instagram, YouTube and Twitter.
For more on the Family Meals Month™, follow #familymealsmovement.
About the Author
Karen Buch, RDN, LDN is a central Pennsylvania-based Registered Dietitian Nutritionist with over 15 years of experience working in grocery retail. As Founder of Nutrition Connections LLC, Karen uses multi-media communications to help consumers make the connection between food, nutrition and health and provides consulting services to various clients within the food industry.