July 13, 2021
Exploring Delicious Dairy-Free Ice Cream Options
I scream, you scream, we all scream for…dairy-free ice cream!
If you haven't noticed, dairy-free ice cream is becoming a BIG DEAL. And with good reason too – more and more people are going vegan or using vegan practices in their lives.
Plus, they're INSANELY DELICIOUS. And there's a ton of options and flavors. They're typically made using coconut milk, almond milk, cashew milk, oat milk, soy milk and even sunflower butter, and each base offers its own unique flavor profile.
So now that summer's here, it's a great time to give a few a try and see if you find a new favorite. Below are our picks for the best dairy-free ice creams you should try IMMEDIATELY.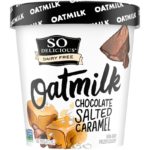 Halo Top, everyone's favorite calorie-conscious ice cream, offers dairy-free options as well. Made from coconut milk, all their flavors are 360 calories per pint. Try the Candy Bar and thank us later.
So Delicious Dairy Free offers all dairy-free everything. Their ice creams have the widest range of bases for all your taste preferences. Do you hear that? The Chocolate Salted Caramel is calling your name.
Graeter's is a 150 year-old maker of premium small-batch ice cream takes an innovative approach. Perfect Indulgence uses animal-free dairy, which is still technically dairy, just without the animals. Their French Pot techniques show in every hand-filled pint, resulting in some ridiculously delicious ice cream.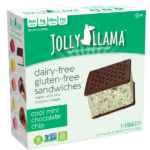 Homemade Brand is a family-owned company that's been making ice cream since the 1930s, and it shows in their dairy-free products. They offer some of the most inventive flavors we've seen. Strawberry Lemongrass?!?! Yes please!
And ending with something different, Jolly Llama brings their delicious enlightenment to dairy-free sandwiches, cones and sorbet pops. Bonus points – they're gluten-free too! Now you can indulge in throwback treats with a coconut cream or fresh fruit twist!
Have you tried a dairy-free ice cream delight? Share your favorites with us on social media @EasyHomeMeals.