April 17, 2020
Being Resourceful with Quarantine Cooking
With so many of us practicing social distancing, we're eating 3+ meals per day at home, and that means much more cooking (or #quarantinecooking if you're watching what's trending on social media). The results of a new survey says that as Americans adjust to home confinement: 75% are more confident in the kitchen, 50% are learning more about cooking and 73% are enjoying it more than they did before.
The ladies from the Easy Home Meals team thought it'd be fun to do our own version of quarantine cooking using ingredients we already had on hand in our pantries, fridges and freezers. Being resourceful and a little bit creative with what you have at home means less frequent trips to the grocery store. And you never know, you might find your new favorite dish! 🙂
Judy:
Creating a meal that normally might not be a "go to" – and one that utilizes ingredients we have on-hand – was quite challenging as my pre-"shelter-at-home" routine would be to find a recipe, go to the store, get the ingredients, then prepare the meal.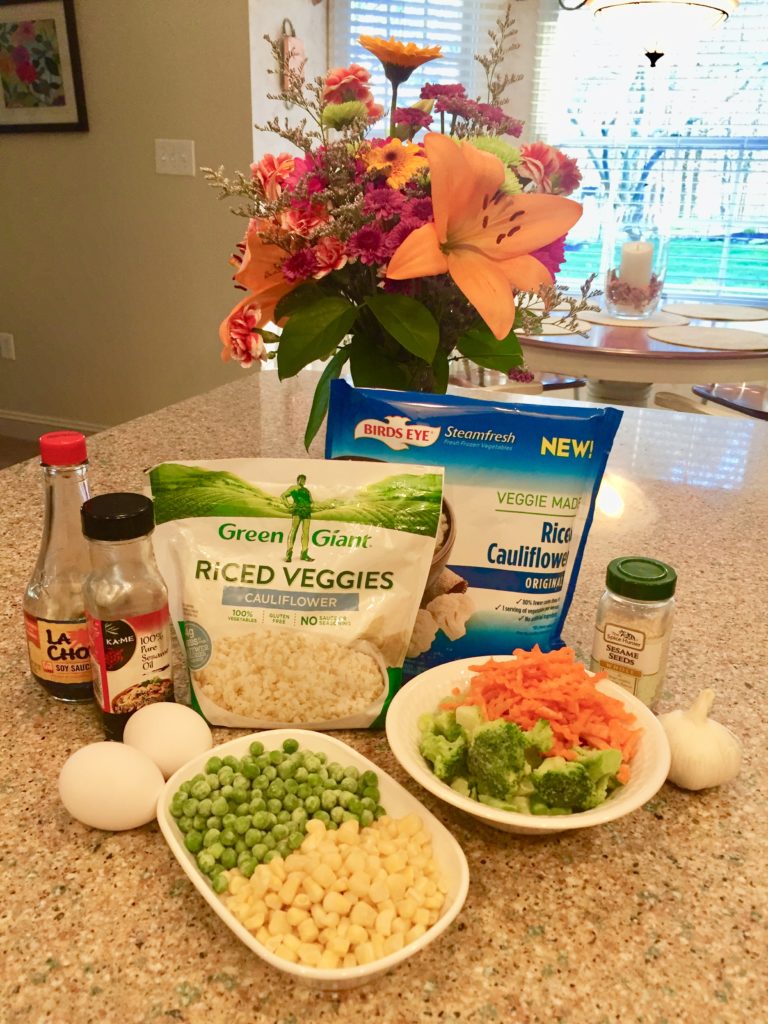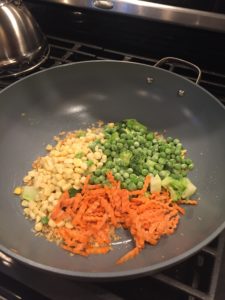 Needing a different approach, I first searched my freezer, fridge and pantry to get some inspiration. The frozen cauliflower caught my eye – so I googled recipes with cauliflower rice and found many variations of one of my favorites, Stir-Fried Rice. I didn't have all of the ingredients on-hand for any of the recipes, but with some adjustments, substitutions and eliminations – I came up with my own simple version. And surprisingly, it was delicious and a recipe I will definitely make again!
Stir Fried Cauliflower Rice
– 2 Tbsp. vegetable oil
– 2 eggs, slightly beaten
– 2 Tbsp. soy sauce
– 1 Tbsp. sesame oil
– ¼ tsp. ground ginger
– 1 Tbsp. chopped garlic-
– 1 Tbsp. dried minced onion
–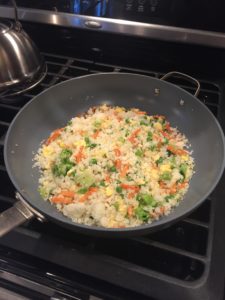 ¼ cup frozen peas
– ¼ cup frozen corn
– ½ cup chopped broccoli
– ¼ cup shredded carrots
– 1 pkg. frozen cauliflower rice
– Sesame seeds
Mix soy sauce, sesame oil and ginger in small bowl; set aside. Heat 1 Tbsp. vegetable oil in large skillet or wok. Fry the egg mixture until cooked well – remove to plate, cut in small pieces. Heat remaining Tbsp of oil in skillet, add garlic and onion and cook 2-3 minutes. Add peas, corn, broccoli, carrots and cauliflower rice, and cook until vegetables are heated/tender (6-8 minutes). Add eggs and soy sauce mixture to pan. Stir and heat mixture through. Sprinkle with sesame seeds and serve!
From my cooking experiences during this quarantine period, I would add another positive perspective: that we are all becoming more creative and less wasteful with our food, as we navigate through this new normal in planning and meal preparation.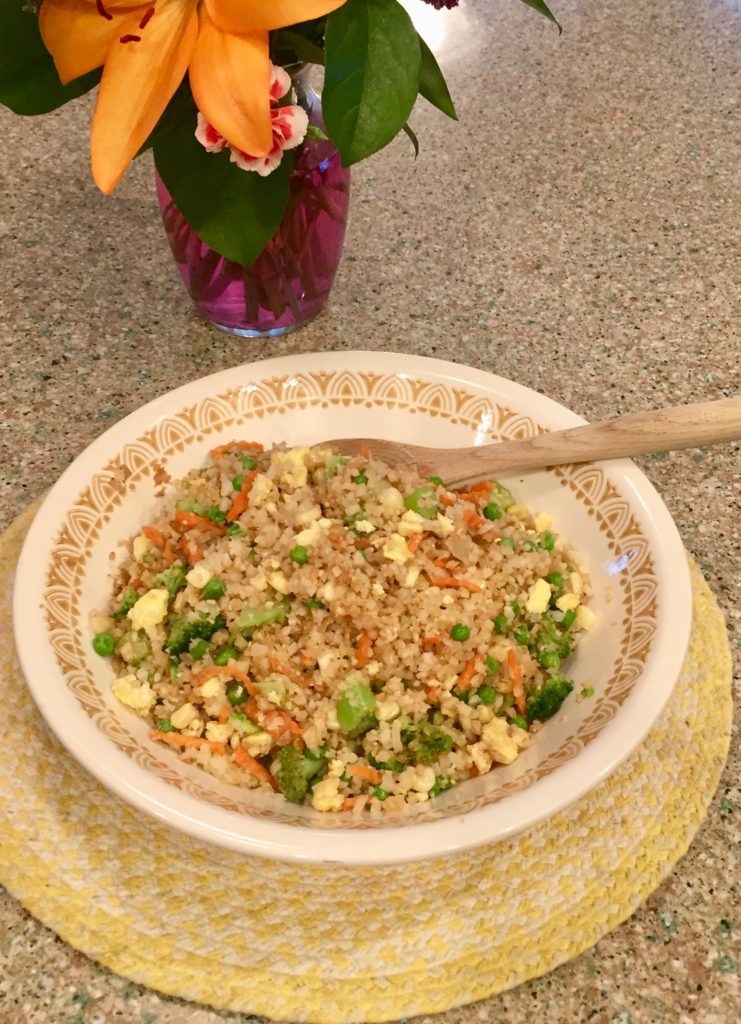 Julie: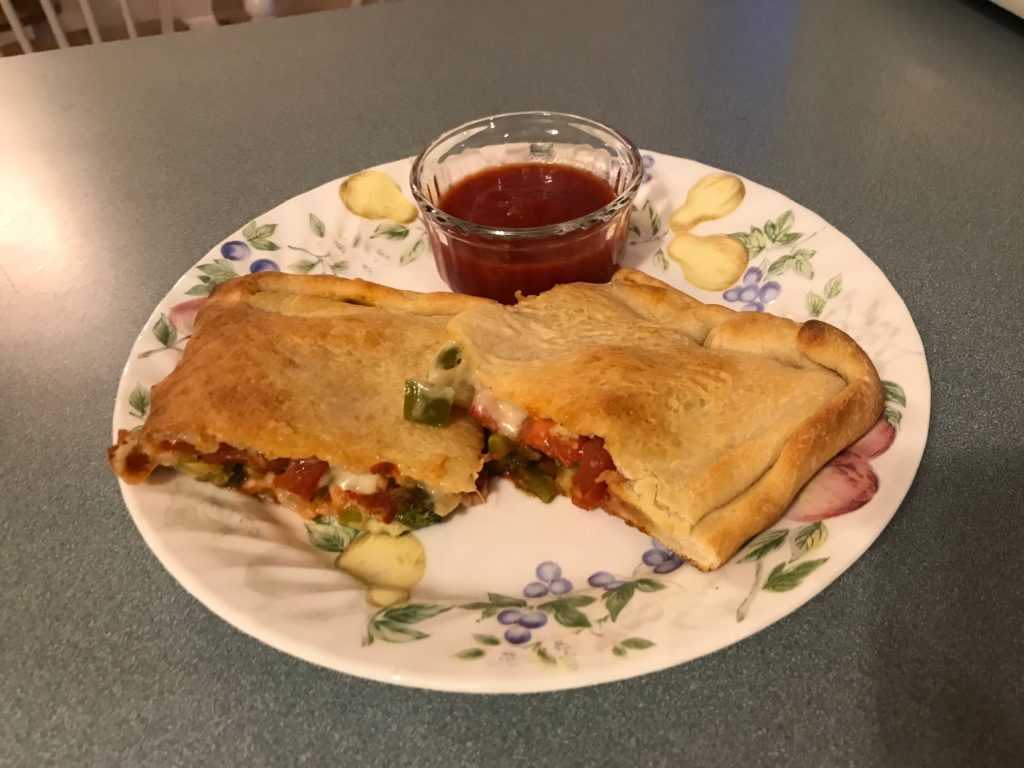 As a single, empty-nester mom, I may be one of the few who are quarantining at home alone. Cooking has never been my thing, and cooking for one is more difficult than it sounds. Unless you don't mind leftovers for every meal – for an entire week. While I have more time than usual with a
much, much shorter commute to work (in my son's bedroom), I'd rather spend the extra time reading or crafting. So a quick, simple meal sounded perfect to me.

I had refrigerated pizza dough, but I didn't want to do the same old thing. I was hoping to make a cheesy calzone, but the store was out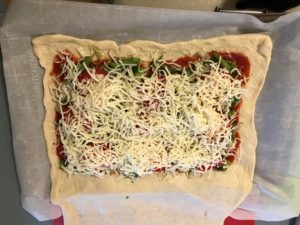 of ricotta. Improvising with the ingredients that are available seems to be the new normal. So instead, I opted for a veggie-filled Stromboli.
Using frozen broccoli let me use just what I needed for this meal and put the rest back in the freezer for another time. I sautéed the frozen broccoli, onion and pepper just a bit first. I wanted the veggies a little softer than they get by just baking them raw. After letting them cool, I wrapped them up with sauce, Italian seasoning and lots of mozzarella cheese. A little extra sauce on the side for dipping, and I had an all-in-one meal.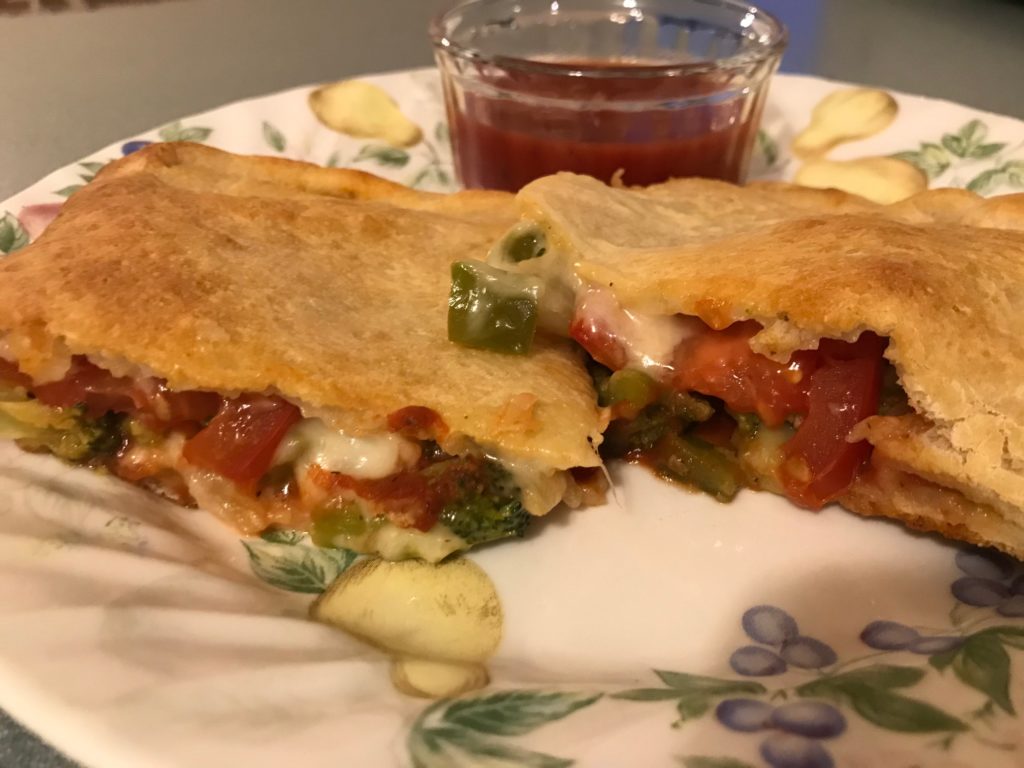 Natalie: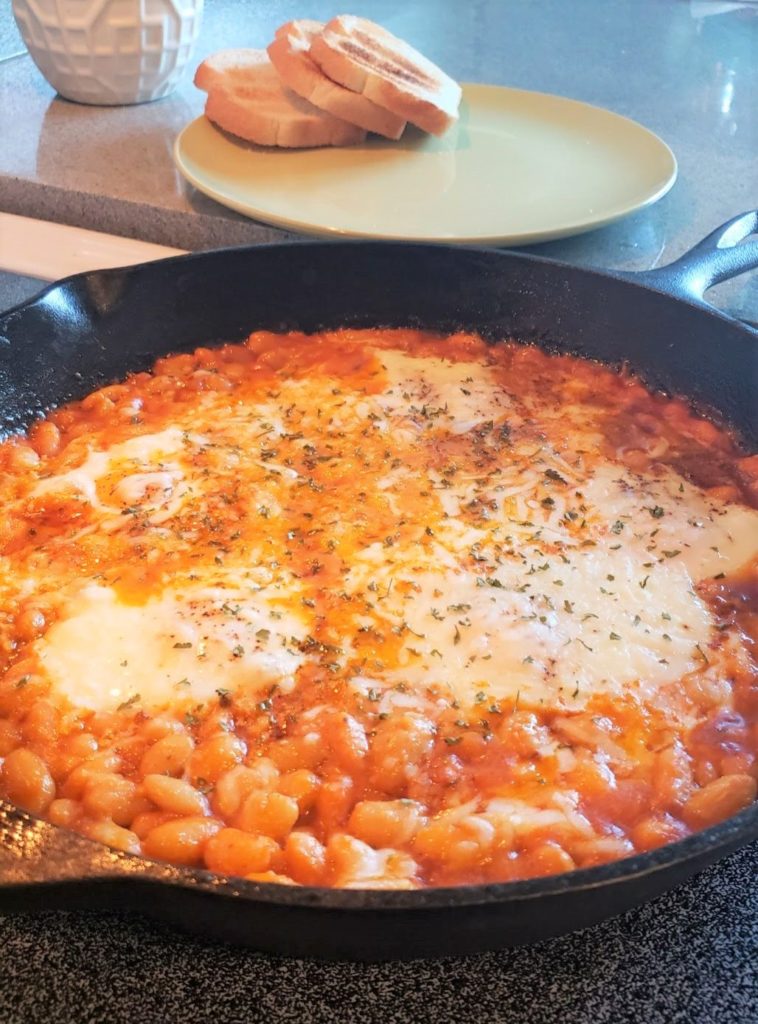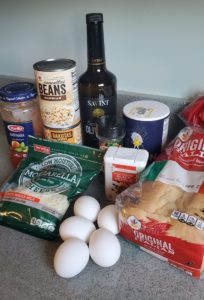 This pandemic has totally changed how I typically grocery shop and meal prep. Usually I make smaller shopping trips to get whatever ingredients I need for the meal I have in mind, but avoiding the grocery store to be safe has made me look at what we already have and try to make meals from that. After some Pinteresting, I found this Cheesy White Bean Skillet to be perfect to use a bunch of stuff we had on hand, including that half jar of marinara sauce, opened bag of mozzarella cheese and eggs we had in the fridge.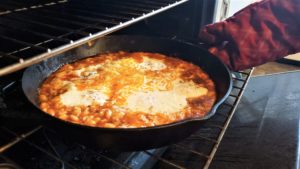 This meal took less than half an hour to make and exceeded my expectations! We usually wouldn't make a dinner with eggs and beans as the main ingredient, but this recipe proved meatless options can be tasty too. We only had plain Italian bread, but I think it'd be fun to get fancier bread to pair with the dish in the future.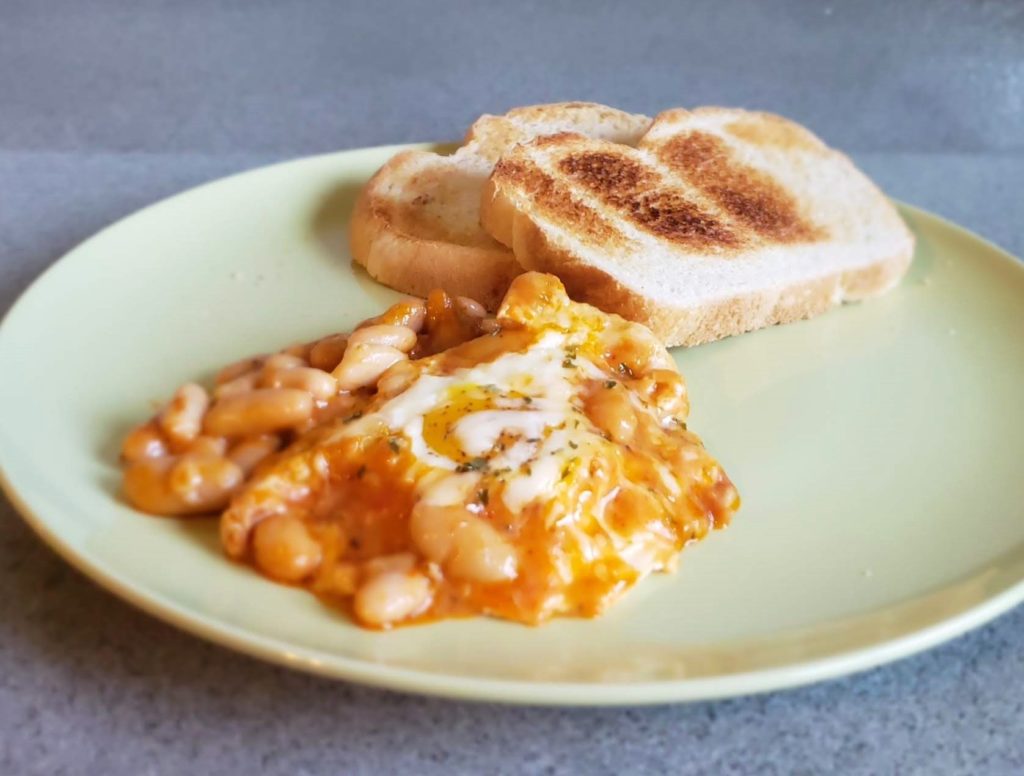 Roxanne: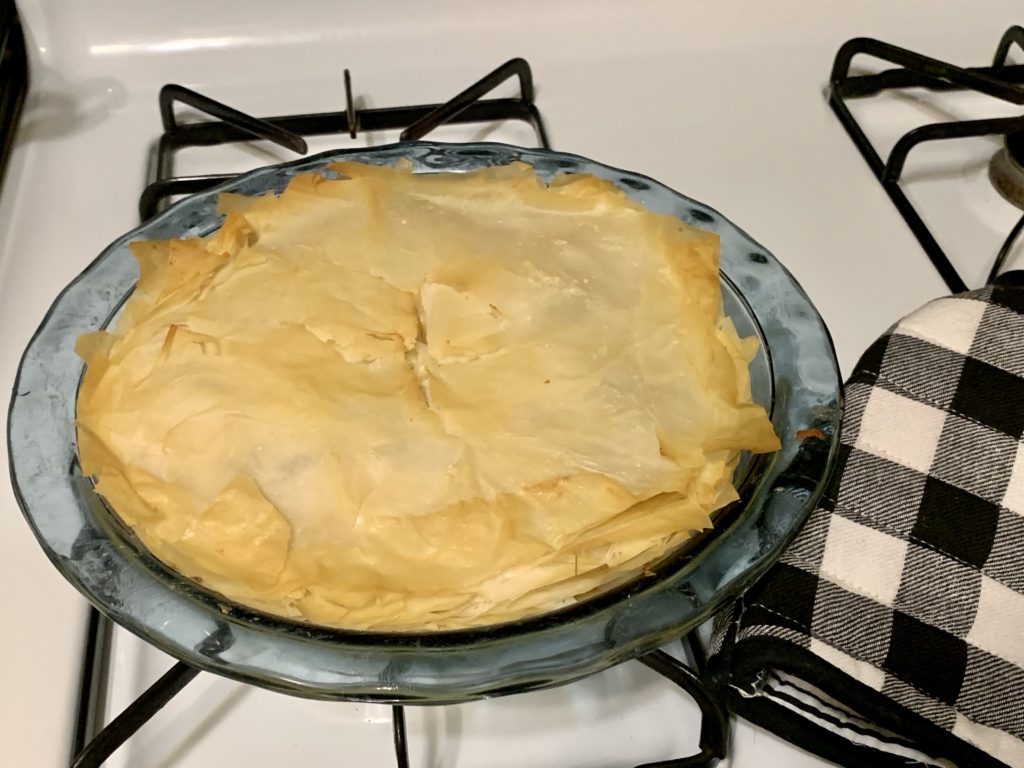 While this blog topic was my idea, I struggled with what I was going to make. I knew I wanted to use the Athens Phyllo Dough that I've had in my freezer, but I have never personally cooked or baked using the sheets, only the shells. Admittedly, I was a little nervous since I was going to have to document it in photographs and write about my experience for this blog.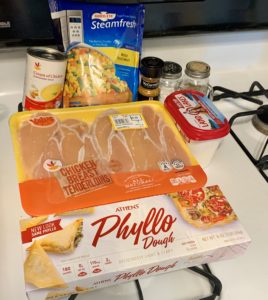 After scoping out my deep freezer and pantry, and browsing Athens' website for recipe ideas, I finally decided on chicken pot pie. I have always wanted to make a pot pie, so now was as good of time as any. I used this Easy Elegant Phyllo Chicken Pot Pie recipe to inspire me, but made some adjustments along the way: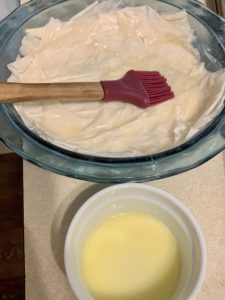 1.) Instead of using a rotisserie chicken I boiled frozen chicken breast tenderloins and my husband, Greg, graciously shredded it for me.
2.) I ran out of onion powder so I instead used McCormick Grill Mates Garden Vegetable seasoning since it contains some onion spices.
3.) To save time and make it easier on myself being a phyllo dough newbie, I skipped the basket weaving. I put 10 sheets of dough on the bottom of the
chicken mixture and 10 on top, brushing each layer with melted butter. Before putting the pie in the oven I also scored the top layer so it could vent.
I was pleased that the phyllo was perfectly flaky. While I think the chicken mixture may have had a tad too much pepper, Greg said it gave it the perfect kick. He even asked for seconds and swore that the pot pie was one of the best meals we've ever made.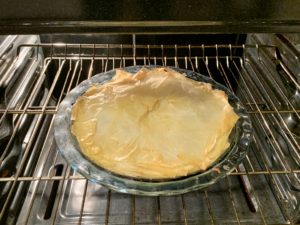 I'm happy that I stepped a little outside of my comfort zone to make this dish and feel this was a #quarantinecookingwin. I'll definitely be making pot pie again, and maybe next time I'll try that basket weaving. 😉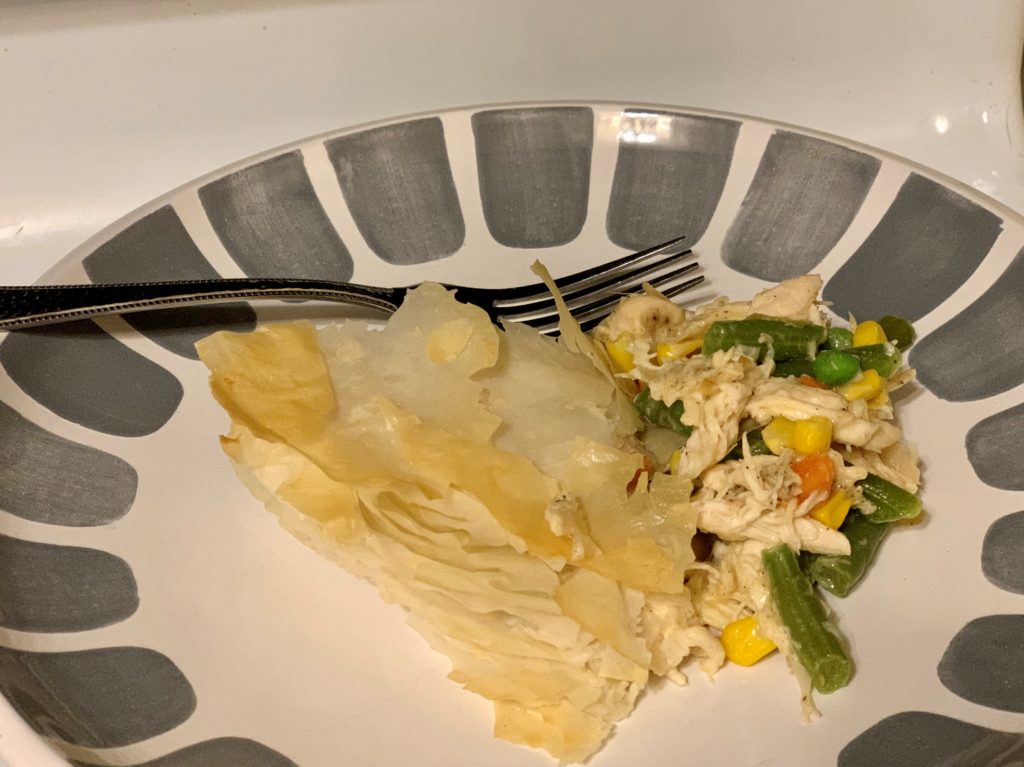 Now we want to hear what you've made using ingredients you already had at home! Share with us on Facebook here and use the hashtag #AtHomeEasyMeals.