December 1, 2021
6 Tips for Healthful Holiday Gatherings
'Tis the season for holiday celebrations filled with food and fun with family and friends. Whether you are hosting or attending a holiday gathering this season, you can enjoy get-togethers with family and friends while eating in moderation. Here are 6 tips to enjoy the holidays while keeping your health in mind.
1. Don't Skip Meals
To prevent overindulgence, don't skip meals leading up to a special holiday gathering. Instead, have a small, yet satisfying snack 1 to 2 hours before the event to curb your appetite. Consider a hot cup of broth-based soup, apple slices with peanut butter, a handful of almonds, a hot cup of oatmeal, a frozen fruit and yogurt smoothie, warm pita triangles with hummus dip or a serving of serving of your favorite frozen vegetables that you can easily heat in the microwave in just minutes.
2. Bring a Healthy Choice
Are you concerned there won't be any healthful options available? Choose to bring a healthful appetizer, entrée or dessert to share at the party. Try making my go-to Spinach and Bell Pepper dip recipe to serve with a veggie, pretzel and cheese platter arranged in the shape of a Christmas tree.
Personalize It! Alternatively, arrange your platter in the shape of the seven candles of a Kinara for Kwanzaa, the nine-branch candelabrum known as a Hanukkiah (or Hanukkah menorah), in celebration of Hanukkah or an attractive design of your choice.
3. Be a Sensible Host
If you are the host, use sensible menu planning to balance indulgent, once-a-year treats with lower-calorie options. At the close of the event, pack-up leftovers to send home with interested guests to prevent being surrounded with the temping leftovers.
4. Focus on Friends and Family More Than Food
During the gathering, position yourself away from the food table to prevent mindless eating. Instead, sit near the people you want to visit with at the gathering. Make the occasion more about people than holiday treats.
5. Be Selective with Seasonal Favorites
Understand the array of foods and beverages on the menu so you can be selective about the seasonal favorites that you want to eat and drink. No single food is on the naughty list. The key is to use portion control and savor the flavors without guilt.
6. Be Aware of Liquid Calories
Holiday beverages may contribute more excess calories than you think. Sugary drinks such as hot cocoa, hot cider, eggnog and peppermint mocha lattes are packed with liquid calories that may rival a full-size dessert. Adding alcohol contributes its own extra calories (7 calories per ounce, to be exact) before factoring in sugar calories from drink mixes, liqueur and the like. Try a refreshing white wine spritzer with a twist of citrus or flavored seltzer water mixed with a spoonful of frozen orange juice concentrate instead.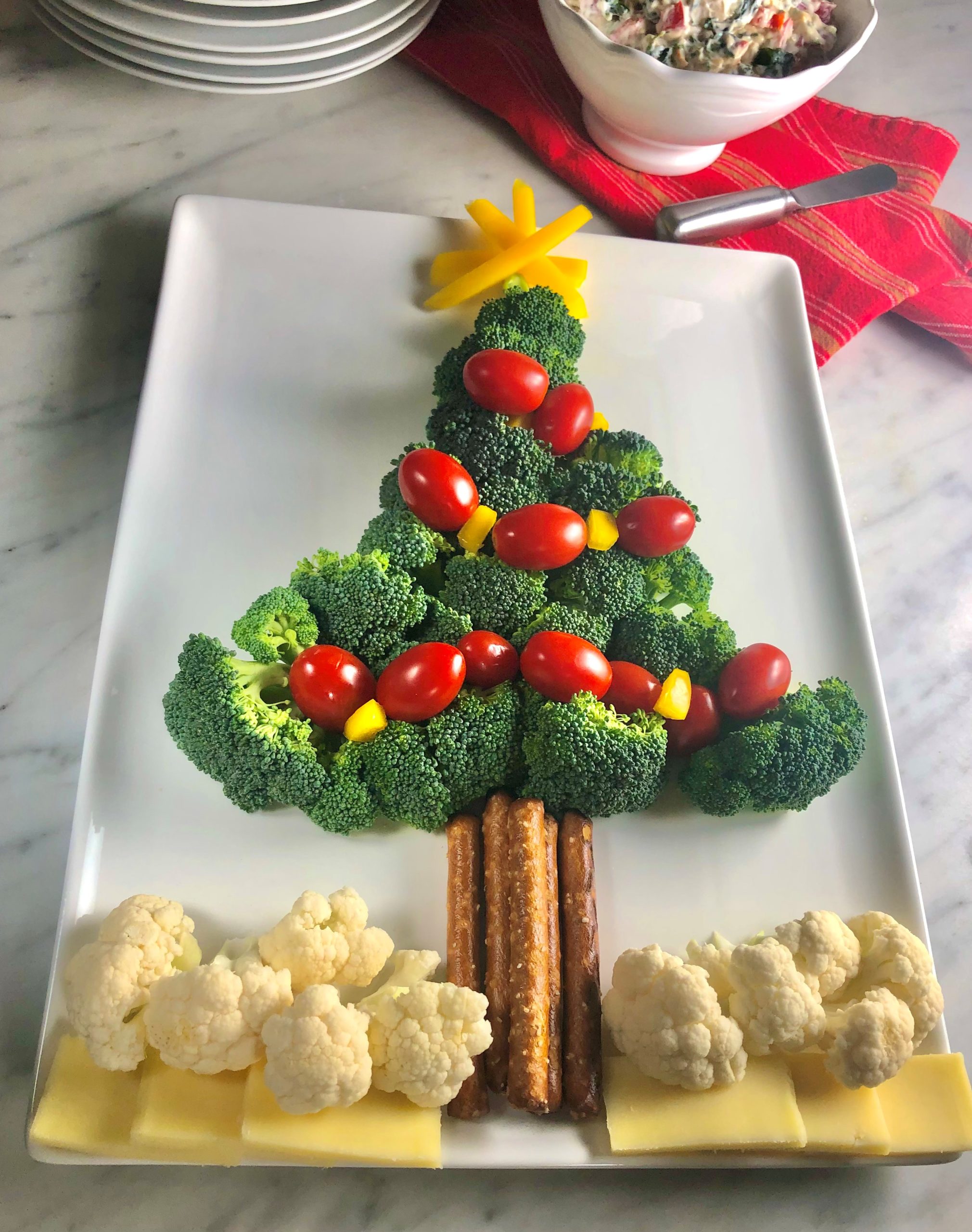 Christmas Tree Veggie Platter & Dip
3 cups fresh broccoli, florets
1 (pint) container grape tomatoes
1 yellow bell pepper, sliced into strips
1 ½ cups fresh cauliflower florets
1 (8-ounce) block white cheddar cheese, sliced into bite-size pieces
1-ounce thin pretzel sticks
1. Near the top of a large oblong platter, assemble yellow bell pepper slices to form a star.
2. Below, arrange fresh broccoli florets in the shape of an evergreen tree.
3. Between select rows of broccoli, insert 2 to 3 rows of grape tomatoes as garland.
4. Use pretzel sticks to make a tree trunk.
[OPTIONAL SUBSTITUTIONS: celery sticks (cut to 3-inches) or green bell pepper slices]
5. Along the bottom of the platter, arrange snow made with a mix of cauliflower florets and aged white cheddar cheese slices.
6. Serve with chilled dip (recipe below).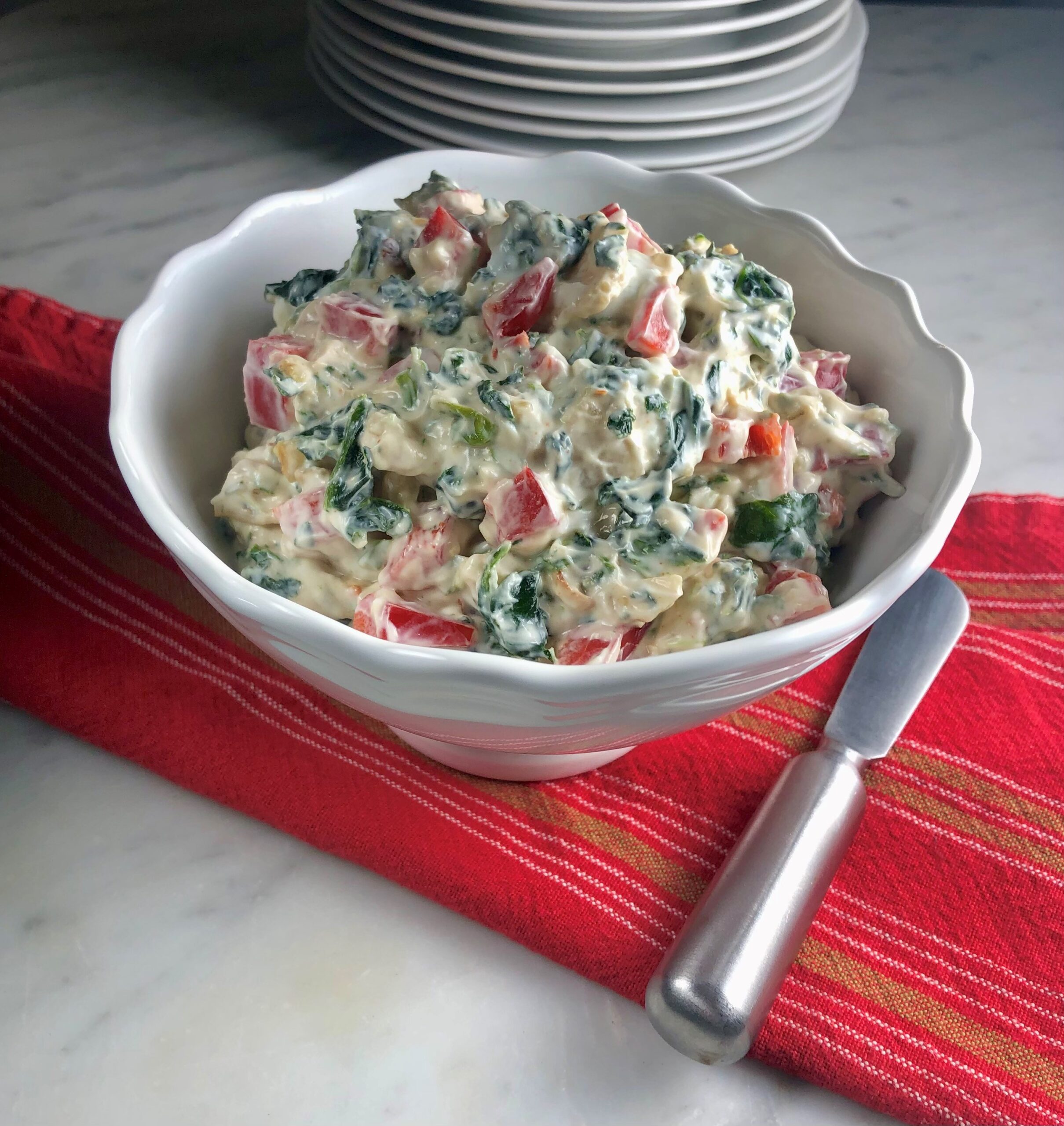 Festive Spinach & Red Bell Pepper Dip
1 (10-ounce) package frozen chopped spinach, thawed and squeezed dry
1 (16-ounce) container plain, nonfat Greek yogurt
1 cup light mayo
1 (5-ounce) can water chestnuts, drained and finely chopped
1 (1.4-ounce) envelope dry vegetable soup mix (Knorr vegetable recipe mix or similar store
brand)
1 fresh, red bell pepper, diced
1. In a medium mixing bowl, sprinkle half of the dry soup mix over water chestnuts. Stir to coat.
2. Add spinach, plain Greek Yogurt, light mayo, pepper and remaining dry soup packet. Stir to combine.
3. Cover and chill 1-2 hours to allow flavors to blend.
4. Stir and transfer to a festive serving dish to serve.
How do you try to make your holiday gatherings more mindful? Share with us on social media @EasyHomeMeals.
About the Author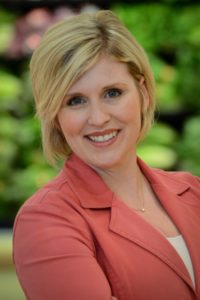 Karen Buch, RDN, LDN is a central Pennsylvania-based Registered Dietitian Nutritionist with over 15 years of experience working in grocery retail. As Founder of Nutrition Connections LLC, Karen uses multi-media communications to help consumers make the connection between food, nutrition and health and provides consulting services to various clients within the food industry.