November 7, 2020
4-Ingredient Date Night
Rachel of College Nutritionist is here to share her 4-Ingredient Date Night with us!
~
Zak & I are home bodies – so staying at home the past few months hasn't been a big issue for us. But! If you're an extrovert, or if you just need something to spice up your evening, try this date-night-in idea next weekend.
Step 1. Set Your Table
Environment matters. Get out your nice glasses, use cloth napkins, and find some nicer plates. You'll elevate the whole experience in an instant. Get some candles too, to add a romantic vibe.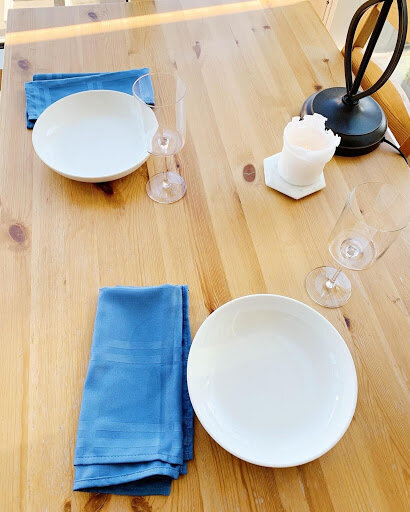 Step 2. Make Your Main Course
Guess what? Making a fancy dinner does not mean spending $100 on groceries or ordering greasy takeout. Try this delicious, decadent date night dinner hack.
Slice two sausages into coin shapes.
Spray a pan with an oil spray.
Cook sausages on low-medium heat until cooked through
While sausages are cooking, microwave two Performance Kitchen® Creamy Cauliflower Mac & Cheese entrées (separately) for 4 minutes each. Let each sit for one minute, then remove film.
Transfer mac & cheese to bowls and add in sausage.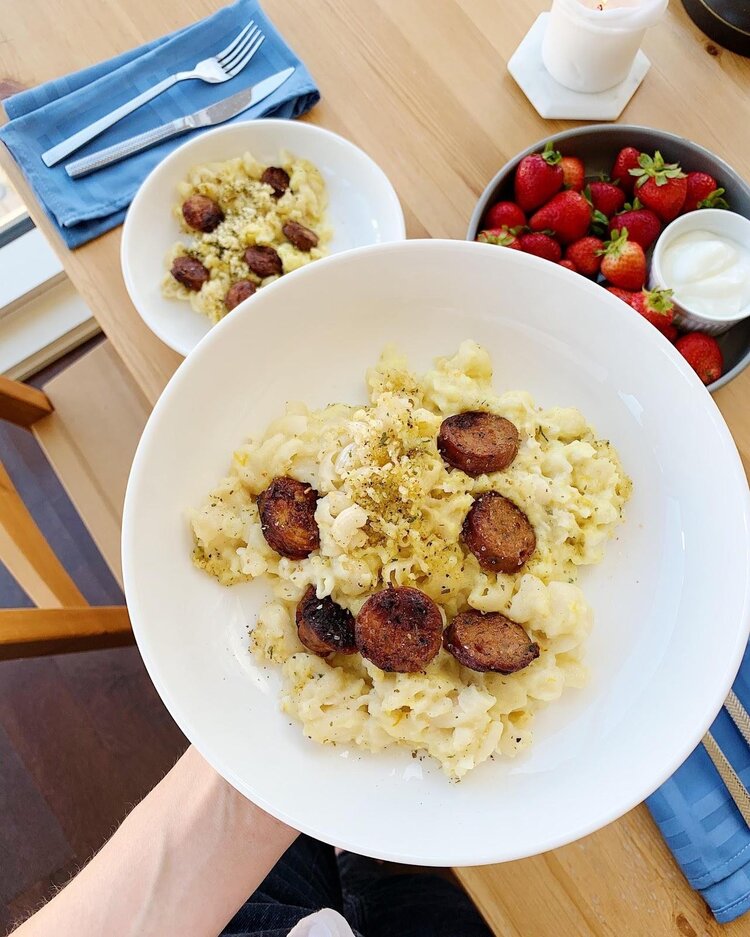 I love Performance Kitchen® Creamy Cauliflower Mac & Cheese. First of all, it's delicious, and second, it's made with Monterey Jack and cheddar cheeses, butternut squash sauce, and is cooked in avocado oil – and each meal includes 4 gm fiber and 11 gm protein, and is made without artificial colors, flavors, or sweeteners (win!).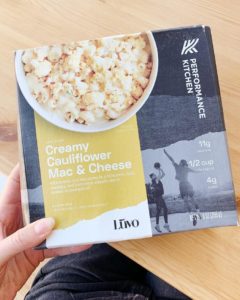 Step 3: Make Your Dessert
Don't stress – dessert's going to be even easier than the main meal! Open one Yoplait® Light Very Vanilla Yogurt,and wash off a carton of strawberries to dip into the yogurt, as shown below. A perfect, not-too-sweet dessert.
I'm wary of yogurts with a lot of added sugar. But I was pleasantly surprised to find that Yoplait® Light Very Vanilla has just 4 gm added sugar.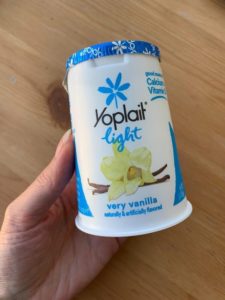 Step 4. After Dinner, Show Off Your Gaming Skills
Zak & I have been playing a lot of games. puzzles, cards, dice – all the things. Choose your favorite and get your game face on! Pro-tip: we keep our puzzles under the rug so we can do them over time, but don't have to worry about Mrs. Cat ruining them 🙂