June 15, 2021
17 Satisfying Recipes to Enjoy for Seafood Month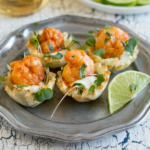 June is Seafood Month and it's the perfect time to embrace all the seafood options you can find at your local grocery store! Whether you like crab, shrimp, scallops, salmon, cod, etc. there is sure to be a recipe or meal idea right up your alley. From dips and small bites to light lunches and full-sized pasta entrees, tap into your creative side and create a seafood menu with these savory and tasty seafood recipes for your next meal!
Amazing apps to devour
Light lunches you'll love
Go all-out for a date night dinner

What are your favorite seafood dishes? Share with us on social @EasyHomeMeals!