Soft Pretzel Dip Snack Bar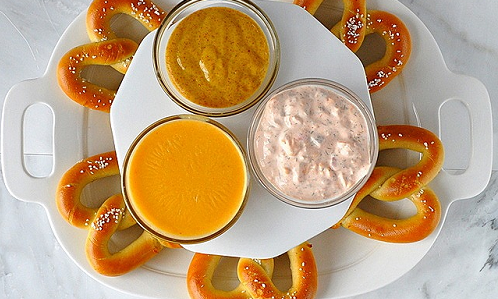 Recipe At A Glance
25 ingredients
15-30 minutes
8+ Servings
Pretzels and homemade dips make for the perfect snack tray that your guests will love!
Recipe Ingredients
Soft Pretzels
1 package of frozen soft pretzels
Sweet Hot Mustard Dip
½ C brown mustard
2 T corn syrup
4 t mustard powder
1½ vinegar
1 t soy
1½ t sugar
¼ t cayenne
Creamy Tex Mex Dip
16 oz Daisy sour cream
1 t dill
2 t dried parsley
½ t garlic powder
½ t onion powder
½ t kosher salt
½ C salsa
½ C Land o Lake sharp cheddar shredded cheese
Warm Beer Cheese Dip
2 Tbs. unsalted butter
3 Tbs. all-purpose flour
½ cup milk
¾ cup dark beer
1 tsp. dry mustard
2 tsp. Worcestershire sauce
Hot sauce, to taste
12 oz Land O Lakes. sharp cheddar cheese, grated
Kosher salt and freshly ground pepper, to taste
Recipe Directions
For soft pretzels:
Follow heating directions on packaging.
For Sweet Hot Mustard Dip and Creamy Tex Mex Dip:
Combine ingredients for each dip in separate bowls.
For beer cheese:
In a saucepan over medium heat, melt the butter. Add the flour and cook, stirring constantly, for 2 minutes. Slowly whisk in the milk and beer, increase the heat to medium-high and bring the mixture to a simmer. Add the mustard, Worcestershire and hot sauce and cook, whisking occasionally, until the mixture begins to thicken, 3 to 5 minutes.
Working in batches, add the cheese in large handfuls, whisking until each batch has completely melted before adding more. Season with salt and pepper.
Other Recipes You Might Like