Shrimp Tostadas with Chipotle Cream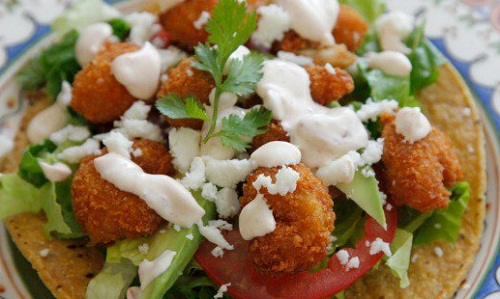 Recipe At A Glance
12 ingredients
Over 30 minutes
8+ Servings
This recipe for Shrimp Tostadas with Chipotle Cream from Mama Latina Tips is incredibly simple, but still so extraordinarily satisfying and delicious!
Featured Product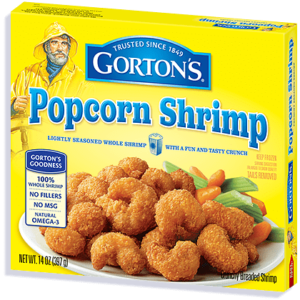 Gorton's® Popcorn Shrimp
Recipe Ingredients
2 (14 oz) boxes of Gorton's® Popcorn Shrimp (you can also use Gorton's® Crunchy Butterfly Shrimp, just remove the tails and chop the rest)
1 package of tostadas of your choice – you can generally find them next to the flour and corn tortillas in the supermarket
1 romaine lettuce, washed and chopped
3-4 cilantro sprigs
2-3 roma tomatoes, sliced
2 avocados
1 (8 oz) package of queso fresco, crumbled
For the chipotle cream
2/3 cup Daisy® sour cream
2 chipotles peppers in adobo, seeded
2 Tbsp. mayonnaise
2 Tbsp. lemon juice
1/8 tsp. salt
Recipe Directions
Pre-heat oven to 425 degrees F.
Bake Gorton's® Popcorn Shrimp (or butterfly shrimp) following the instructions on the package.
While shrimp is cooking, prepare the chipotle cream.
Mix Daisy® sour cream with chipotles using a spoon until the peppers are completely broken down, the cream will become a pale shade of pink. Add mayonnaise, lemon juice, and salt to taste. Mix well. Refrigerate.
Chop cilantro and add to the chopped lettuce.
Peel and slice avocados just after you take the shrimp out of the oven.
Take a tostada, add a layer of lettuce, then add tomatoes, avocado, top with the shrimp and finish with the crumbled queso fresco and chipotle cream.