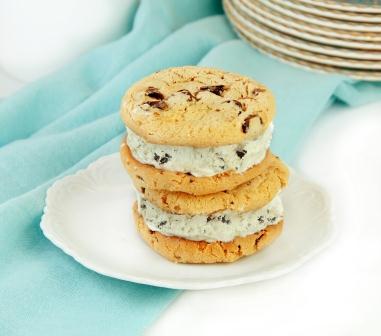 Recipe At A Glance
8 ingredients
Under 15 minutes
6 Servings
A delicious frozen treat made with sweet ricotta and everyone's favorite cookies!
Recipe Ingredients
12 large, store-bought chocolate chip cookies
3/4 cup Frigo® Ricotta cheese (whole milk or part-skim)
1/4 cup cream cheese, softened
5 Tbsp. powdered sugar
1/4 cup chocolate chips
1/8 tsp. vanilla extract
1/2 tsp. grated orange zest (optional)
1/2 tsp. salt (optional)
Recipe Directions
Stir together all ingredients except cookies and refrigerate for 1 hour.
Scoop ricotta filling onto 6 cookies, 2 large tablespoons each or until you run out. Top with remaining 6 cookies. Place cookie sandwiches in freezer for 1 hour, or until very firm.
Other Recipes You Might Like