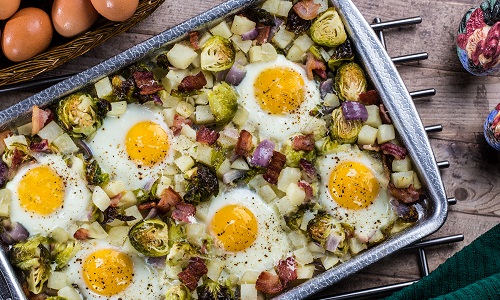 Recipe At A Glance
10 ingredients
Over 30 minutes
6 Servings
Whether you serve this one for breakfast or for "brinner" (that's breakfast for dinner), this easy recipe for All-in-One Sheet Pan Eggs won't disappoint. It features some yummy favorites like cage-free, farm-fresh eggs, flavorful veggies, and crispy-cooked bacon. Not only can it feed the whole family, but it'll leave them feeling full and satisfied, too!
Sponsored By

Recipe Ingredients
4 slices bacon, cut into 1-in pieces
2 Tbsp. olive oil
1 tsp. garlic powder
1/2 tsp. salt
1/4 tsp. black pepper
1/2 lb Brussels sprouts, cut in half
2 c. refrigerated diced potatoes
1/2 c. diced red onion
6 NestFresh Eggs
1 Tbsp. grated Parmesan cheese
Recipe Directions
Preheat oven to 425 degrees F. Coat a rimmed baking sheet with cooking spray. Place bacon pieces on baking sheet.
In a large bowl, combine olive oil, garlic powder, salt, and pepper; mix well. Add Brussels sprouts, potatoes, and onion; toss until evenly coated. Place vegetable mixture in a single layer on baking sheet. Bake for 35 minutes or until vegetables begin to brown.
Remove from oven and form 6 wells. Gently crack eggs and place in wells. Sprinkle entire sheet tray with Parmesan cheese and place back in oven. Bake for 5 to 7 minutes more or until egg whites are firm. Serve immediately.
Other Recipes You Might Like