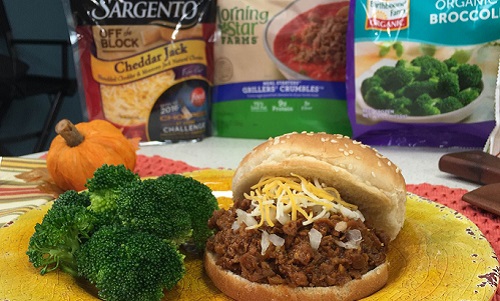 Recipe At A Glance
14 ingredients
Under 15 minutes
6 Servings
These days being a vegetarian definitely doesn't mean giving up on some of the best traditional comfort foods. Alternative meat products mean that favorite recipes can be turned into vegetarian versions, and that you can still enjoy everything from meatballs to hearty chili to a Sloppy Joe like this one.
You can serve these with coleslaw and pickles for topping. Pair these up with steamed broccoli florets for an updated edition of a childhood favorite.
Recipe Ingredients
1 Tbsp. olive oil
1/3 cup minced shallots
1 tsp. minced garlic
2 (12 oz.) packages frozen Morningstar Farms Meal Starters Grillers Crumbles
1 cup ketchup
2 tsp. Dijon mustard
2 tsp. brown sugar
1 tsp. chili powder
1/2 tsp. salt
Freshly ground pepper to taste
2/3 cup water
1 Tbsp. cider vinegar
1 Tbsp. soy sauce
6 hamburger buns, white or whole wheat (warmed in microwave or oven, if desired)
Recipe Directions
1.
Heat a large skillet over medium heat and add the oil. Add the shallots and garlic and sauté for 4 minutes, until the shallots are tender. Turn the heat to medium-high, add the frozen Morningstar Farms Meal Starters Grillers Crumbles and sauté until they are mostly defrosted and well combined with the shallots and garlic, about 8 minutes. Add the ketchup, mustard, brown sugar, chili powder, salt and pepper. Stir until well combined. Add the 2/3 cup water, the cider vinegar, and the soy sauce, bring to a simmer, and simmer uncovered for about 5 minutes until the liquid has reduced and thickened into a sauce.
2.
Place an open bun on each plate and using a large spoon, scoop some of the Sloppy Joe filling onto the bottom of each bun. Top with the other half of the bun.
What the Kids Can Do:
Measure the ingredients, dump them into the pan (with supervision), put the buns on the plates, spoon the Sloppy Joe mixture onto the buns.
Cooking Tips:
Make Ahead: This is in fact even better when you make it a day or two ahead and reheat it; fill the buns right before you serve.
If you want to use another vinegar besides cider vinegar, use whatever you have on hand.
Add more or less chili powder if you like things milder or on the spicier side. A pinch or two of cayenne or a squeeze of hot sauce can also spice the filling up more.