Steak Fajitas with Mango Salsa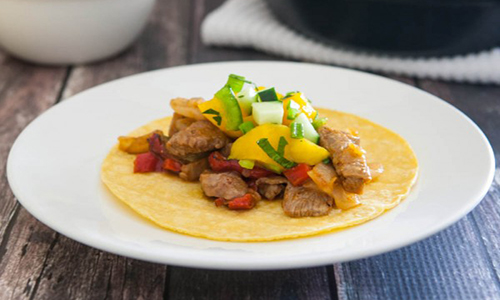 Recipe At A Glance
9 ingredients
15-30 minutes
4 Servings
For National March Frozen Food Month, our Cool Food Panelist, Angie McGowan from Eclectic Recipes, wanted to share her spicy dinner recipe for Steak Fajitas with Mango Salsa!
Recipe Ingredients
Fajitas:
2 20-oz. pkgs. Old El Paso® Steak Fajitas
Corn or Flour Tortillas
Salsa:
1 cup frozen mango chunks
1/2 cup peeled, diced cucumber
1/3 cup diced green onion
1 small jalapeno pepper, diced (substitute bell pepper for mild)
Juice of 1/2 a lime
1/3 cup roughly chopped cilantro leaves
Salt and pepper
Recipe Directions
Prepare fajitas according to package directions. For the salsa, combine all ingredients into a medium bowl. Mix well.
Serve fajitas with warmed corn or flour tortillas, topped with mango salsa.
Other Recipes You Might Like