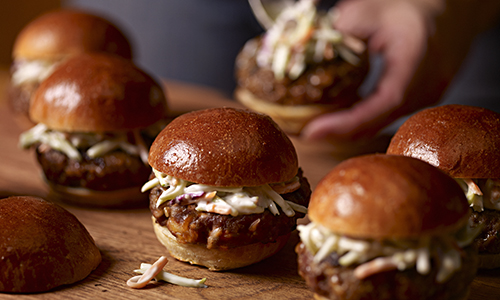 Recipe At A Glance
6 ingredients
15-30 minutes
4 Servings
Make your sliders smokey mesquite sliders! Delish!
Recipe Ingredients
1 lb. lean ground beef
1 pkg. (6-oz.) Kraft® Fresh Take® Smokey Mesquite BBQ Cheese Breadcrumb Mix, mixed together
2 Tbsp. water
1 cup broccoli slaw
1/4 cup Kraft® Coleslaw Dressing
8 slider buns
Recipe Directions
Heat grill to medium heat.

Mix first 3 ingredients just until blended; shape into 8 (1/2-inch-thick) patties.
Grill 5 to 7 min. on each side or until done (160ºF). Meanwhile, combine broccoli slaw and dressing.
Fill buns with burgers and slaw.