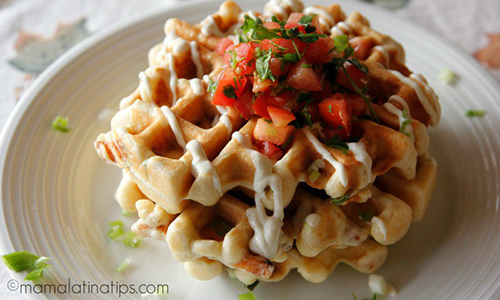 Recipe At A Glance
12 ingredients
Over 30 minutes
4 Servings
Give your typical breakfast waffles a makeover with Mama Latina Tips' Savory Sweet Potato Waffles. They're a delicious, fuel-filled breakfast using Alexia Food's frozen sweet potato fries and served with Jimmy Dean Sausage!
Featured Product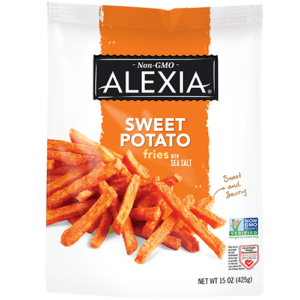 Alexia Sweet Potato Fries with Sea Salt
Recipe Directions
Pre-heat oven to 425 degrees F.
Cook Alexia Sweet Potato Fries according to the bag, for half a bag it will take approx 12 minutes. You can bake the whole bag and enjoy the crispy remainder, but if you do this, consider that the baking time will double.
Meanwhile, mix flour, baking powder, salt, and black pepper.
In a separate large bowl, lightly whisk the eggs. Pour in melted butter and buttermilk, then stir until well blended.
Add dry ingredients to the liquid mixture and stir until well-integrated. Finally, fold in cooked sweet potatoes and green onions.
Warm up the waffle maker and make the waffles following the instructions of your appliance.
Serve with pico de gallo salsa. Drizzle with sour cream if you like.
Make it a full plate by adding Jimmy Dean sausages. They are already cooked, so you just need to heat them up for a few minutes and that's it, easy peasy!