Salmon and Sweet Pea Salad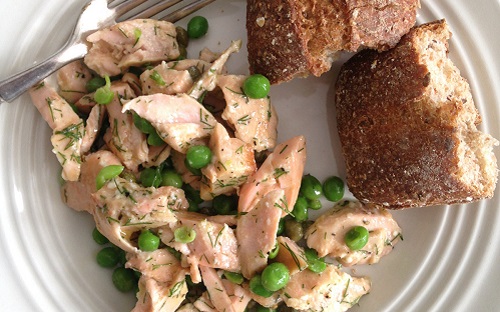 Recipe At A Glance
8 ingredients
15-30 minutes
2 Servings
Our Cool Food Panelist, Katie Workman, created this healthy salad that is pretty easy on the eyes and nice to serve with a warm roll on the side!
Recipe Ingredients
1 (6.3 oz.) pkg. frozen Gorton's Classic Grilled Salmon
¼ cup olive oil
1 Tbsp. white wine vinegar
1 tsp. Dijon mustard
1 tablespoon capers, rinsed and drained
1 tsp. minced fresh dill
Kosher or coarse salt and freshly ground pepper to taste
1/2 cup frozen Green Giant Sweet Peas, defrosted and well drained
Recipe Directions
1. Bake the salmon according to package directions (see Cooking Tip). Allow to cool to room temperature.
2. Meanwhile, in a small bowl mix together the olive oil, vinegar, mustard, and capers. Season with salt and pepper. 3. Flake the salmon into small pieces using your fingers or a fork and place them in a medium sized bowl. Add the dressing, dill and the peas and toss gently to combine. Taste for seasoning and serve at room temperature or chilled.
Cooking Tips:
You may notice the salmon's natural white protein coming to the surface as it cooks; this is fine. It wipes off easily after cooking, though it's perfectly fine to eat.
You can vary the type of herb you use; dill is always a great companion to salmon, but basil or tarragon would also be delicious.
Fully cooked fish should reach an internal temperature of 165°F. before serving.
Gorton's Grilled Salmon is naturally gluten-free, as is this entire recipe (except the rolls, if you choose to serve the salad with them).
Other Recipes You Might Like