Pulled Pork Pineapple & Jalapeno Flatbread Pizza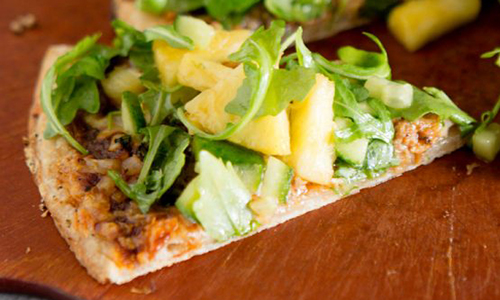 Recipe At A Glance
12 ingredients
Over 30 minutes
6 Servings
This Pulled Pork Pineapple & Jalapeno Flatbread Pizza topped with Watercress and BBQ Vinaigrette is a unique and yummy option for either lunch or dinner.
Recipe Ingredients
1 American Flatbread Pulled Pork, Pineapple & Jalapeño Flatbread Pizza
For the salad topping:
2 c. Watercress
1/4 c. chopped cucumber
1/4 c. chopped pineapple
3 Tbsp. BBQ Vinaigrette (recipe follows)
For the dressing:
1/4 c. BBQ sauce
1 Tbsp. soy sauce
2 Tbsp. pineapple sauce
1 Tbsp. red wine vinegar
3/4 c. olive oil
Recipe Directions
Prepare Flatbread pizza according to package directions.
Combine watercress, cucumber and pineapple in a large bowl. In a salad dressing shaker or mason jar combine all the ingredients for the salad dressing. Shake to combine and drizzle 3 tbsp.of the dressing over salad.
After pizza comes out of the oven, top with salad and enjoy!