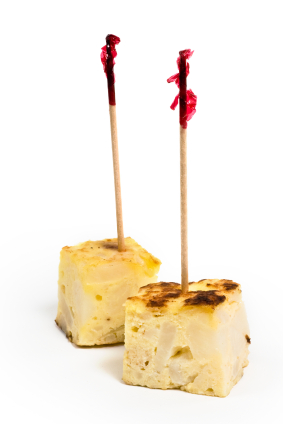 Recipe At A Glance
3 ingredients
Over 30 minutes
8+ Servings
This is a great dish for a party and can be served in many different ways. Present it whole, cut in wedges, or cut into small squares as an hors d'oeuvre for a cocktail party.
Sponsored By

Recipe Ingredients
3 pounds waxy, thin skinned potatoes
2 sticks unsalted butter
24 extra large NestFresh Eggs
Recipe Directions
Preheat oven to 350 degrees.
Peel potatoes and slice paper-thin with a thin-bladed sharp knife.
Melt 7 tablespoons butter in each of 2 large nonstick skillets.
Divide potatoes into 2 equal portions and add to skillets, sprinkling with salt and freshly ground black pepper. Saute over medium-high heat for 1 to 2 minutes. Cover skillets, lower heat, and cook for 16 to 18 minutes, until potatoes are tender and golden but not too soft.
Meanwhile, beat eggs well with electric mixer. Add 2 tablespoons salt and some pepper.
Using remaining 2 tablespoons butter, grease bottoms and sides of 2 10-inch tight-fitting springform pans.
When potatoes are done transfer with slotted spoon to pans.
Add any pan juices from potatoes to beaten eggs and mix briefly. Pour over potatoes.
Place pans on 1 or 2 baking sheets and bake for 20 to 25 minutes, until set and golden.
Let sit for 5 minutes. Loosen sides of tortillas with a knife or flexible rubber spatula. Remove from springform. Cut each tortilla into 12 wedges. Serve hot or at room temperature.
Other Recipes You Might Like