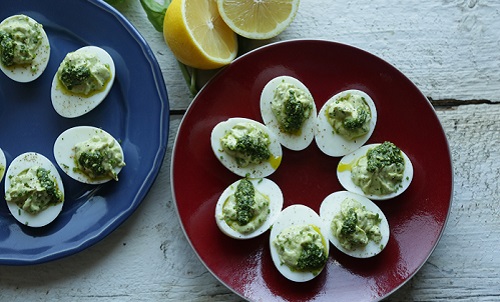 Recipe At A Glance
10 ingredients
15-30 minutes
8+ Servings
Transform those eggs in the back of your fridge into something devilishly delicious!
Recipe Ingredients
Pesto
1 packed cup of fresh basil leaves
1 Tbsp. of Sargento® Parmesan Cheese
1 Tbsp. of pine nuts
Juice of ½ lemon
2 Tbsp. of olive oil
Kosher salt and fresh cracked pepper to taste
Deviled Eggs
6 Hard-boiled eggs, shells removed
1 ½ Tbsp. of Dannon® plain yogurt
1 Tbsp. of thinly sliced fresh chives
Kosher salt and fresh cracked pepper to taste
Recipe Directions
In a food processor add together the basil leaves and lemon juice and pulse 3 to 4 times on high. Next add in the cheese and pine nuts and pulse 5 to 6 times. Note: everything should appear finely minced and you may need to scrape the sides a few times with a rubber spatula. Next on high speed, slowly drizzle in the olive oil until combined. Season with salt and pepper. Once the eggs have been hard boiled, cooled and the shells removed, cut them in half long ways and place the cooked yolks into a large bowl and repeat until all of the yolks are in there
Add the yogurt to the egg yolk bowl and thoroughly mix with a whisk until smooth.
Next add in 1½ tablespoons of pesto and adjust the seasonings with salt and pepper and then chill until completely cool. Once the filling is cool, add it to a piping bag and squeeze a small amount of it into each ½ hard-boiled egg until all of them have been filled. Garnish by adding a small amount of the remaining pest to each pesto deviled egg and sprinkle on some fresh chopped chives. Completely cool before serving.
Tips:
Because the same ingredients from mayonnaise will already be used in the pesto deviled eggs, i.e. egg yolks and olive oil, replace it with yogurt for a delicious light alternative.
To ensure the filling is incredibly smooth try pureeing it together in a food processor until completely combined.
Learn how to properly hard-boil an egg.
Other Recipes You Might Like