Pan Seared Scallops with White Wine and Herb Butter Sauce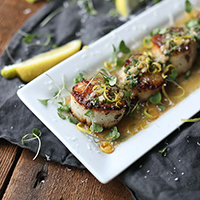 Recipe At A Glance
11 ingredients
15-30 minutes
8+ Servings
Try these absolutely delicious Pan Seared Scallops with White Wine and Herb Butter Sauce that are sure to be a hit!
Recipe Ingredients
15-oz. tub of Land O Lakes® Butter with Canola Oil + reserve 1 Tbsp.
8 finely minced cloves of garlic
½ peeled and finely minced shallot
juice and zest of 1 lemon
1 Tbsp. of chopped fresh parsley
1 Tbsp. of chopped fresh thyme
1 Tbsp. of chopped fresh chives
2 lbs. of scallops, foot removed
1 Tbsp. of olive oil
¼ c. of white wine
Kosher salt and fresh cracked pepper to taste
Recipe Directions
In a medium size bowl whisk together the butter with canola oil, garlic, shallot, lemon juice, lemon zest, parsley, thyme, chives, and salt and pepper until completely combined. Chill.
Season the scallops on both sides with salt and pepper.
Heat 1 tablespoon of olive oil in a sauté pan over high heat until it begins to lightly smoke. Add in the scallops and turn the heat down to medium-high.
Immediately add in the 1 tablespoon of reserved butter with canola oil to help brown and season the scallops
Turn the scallops over after 2 to 3 minutes or until golden brown on the bottom.
Cook the scallops for a further 2 to 3 minutes or until the desired internal temperature is achieved.
Remove the scallops and deglaze with the white wine and cook until it is almost gone over medium heat.
Add in ½ of the butter with canola oil and whisk until melted. Reserve the remaining half in the freezer for a later date!
Serve garnished with micro greens and parmesan cheese.