Mixed Berry Dark Chocolate Frozen Yogurt Rollups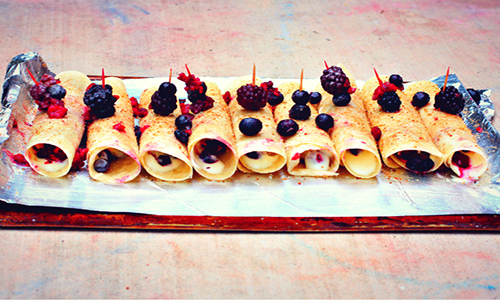 Recipe At A Glance
6 ingredients
15-30 minutes
8+ Servings
In celebration of March National Frozen Food Month, our Cool Food Panelist, Estela Schnelle from Weekly Bite, wanted to share an simple, tasty recipe for snacks and dessert for your loved ones–Mixed Berry Dark Chocolate Frozen Yogurt Rollups!
Recipe Ingredients
non-stick cooking spray
1 Tbsp. brown sugar
1/2 tsp. cinnamon
1.5 cups low fat vanilla yogurt
1 cup of your kids favorite frozen fruit
1/2 cup semi-sweet dark chocolate chips per roll
Recipe Directions
Spray each tortilla with a light coat of non-stick cooking spray. Mix together your brown sugar and cinnamon. Lightly sprinkle cinnamon sugar onto tortilla. Flip tortilla upside down.
Spoon about 1 large tablespoon yogurt on left side of tortilla. Top with a tablespoon of your frozen fruit adn a light sprinkle of dark chocolate chips.
Then, very carefully, tightly wrap tortillas and place on a cookie sheet. Repeat the process. Freeze for at least 3 hours or overnight until completely frozen.
Other Recipes You Might Like