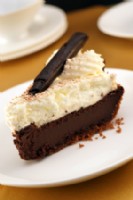 Recipe At A Glance
6 ingredients
Over 30 minutes
6 Servings
Celebrate the flavors of your favorite summer dessert with these inidivual-sized pies.
Sponsored By

Recipe Ingredients
1/4 Cup cocoa powder
1 Pinch salt
1/2 Cup sugar
3 Large NestFresh Eggs
6 Mini graham cracker pie crust
1 Cup marshmallow creme
Recipe Directions
In a medium bowl, mix cocoa, salt and 1/4 cup of the sugar.
In a separate large bowl, beat egg whites until they form soft peaks. Gradually add the remaining 1/4 cup of sugar to egg whites. Beat the egg whites and sugar until they form medium-firm peaks.
Sprinkle cocoa mixture into egg whites gradually. Continue beating until mixed well.
Separate mixture into graham cracker crusts. Bake at 325⁰F for 15 minutes.
Top each pie with marshmallow creme.