Mediterranean Grilled Turkey Sandwich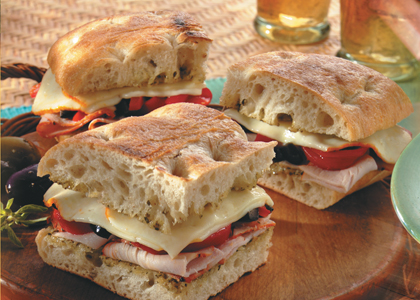 Recipe At A Glance
7 ingredients
15-30 minutes
6 Servings
Roasted pepper, olive and pesto make this turkey sandwich special.
Sponsored By
Recipe Ingredients
1/4 cup mayonnaise
1/4 cup refrigerated basil pesto
1 (1-pound) loaf ciabatta bread, cut in half horizontally
1/2 pound thinly sliced deli turkey
3/4 cup roasted red pepper strips
3/4 cup chopped pitted ripe olives
6 (1-ounce) slices Land O Lakes® Muenster Cheese
Recipe Directions
Heat gas grill on medium or charcoal grill until coals are ash white.
ombine mayonnaise and pesto in small bowl. Spread over cut-sides of bread. Layer bottom half of bread with turkey, red pepper strips, olives and cheese. Cover with top half of bread, spread-side down.
Wrap sandwich in heavy duty aluminum foil; place onto grill. Grill until sandwich is heated through and cheese is melted (10-15 minutes). Cut into 6 sandwiches.
Other Recipes You Might Like