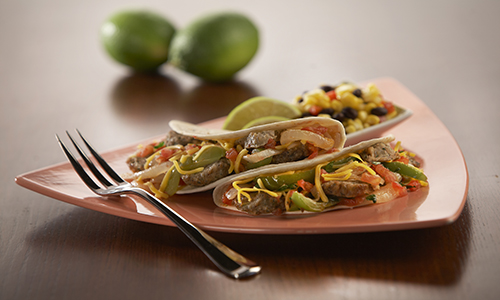 Recipe At A Glance
0 ingredients
Under 15 minutes
4 Servings
Make your fajitas meatball fajitas!
Sponsored By
Recipe Ingredients
1 Bag Rosina Angus or Turkey Meatballs, Thawed and cut into quarters
(Place the package of meatballs in your refrigerator the night before, and they will be thawed in the morning.)
16 oz. jar of your favorite salsa
2 Green Peppers, sliced
1 Onion, sliced
8 oz. shredded Cheddar Cheese
8 flour Tortillas
Recipe Directions
Place thawed and quartered meatballs into a plastic bag with 1 cup salsa, peppers and onions. Seal the bad and mix to coat evenly. Let marinate for 10 – 15 minutes.
Heat a non-stick skillet over medium heat; pour marinated meatballs and peppers and onions into the skillet cook for 20 minutes stirring occasionally. Once peppers and onions are soft and tender and meatballs are heated through; warm tortillas according to package directions.
Spoon mixture onto the center of the tortillas and top with cheddar cheese and salsa. Fold to the center to form fajitas.
Serving Suggestion: Add shredded lettuce, diced tomatoes, sour cream or guacamole.
Other Recipes You Might Like