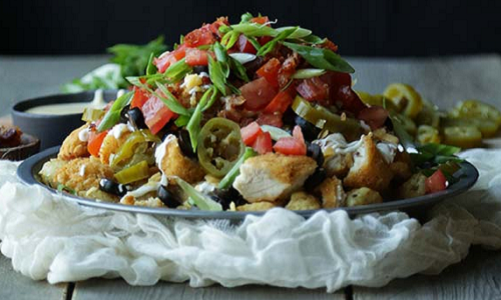 Recipe At A Glance
12 ingredients
15-30 minutes
6 Servings
Whether for a game-day snack, or a mouthwatering dinner with your family, these Loaded Tater Tots from Chef Billy Parisi are to die for!
Featured Product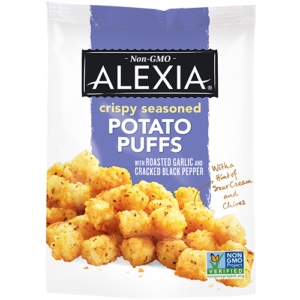 Alexia Crispy Seasoned Potato Puffs
Recipe Ingredients
15 oz. bag of heated Alexia Tater Tots
½ bag of heated Tyson Chicken Anytizers, roughly chopped
1 Tbsp. of butter
1 ½ Tbps. of flour
1 cup of milk
8 oz. of shredded American cheese
2 Tbsp. of sour cream
½ cup of sliced black olives
½ cup of diced tomatoes
¼ cup of sliced jalapeños
¼ cup of sliced green onions
2 Tbsp. of chopped crispy cooked bacon, optional
Recipe Directions
For the Cheese Sauce: In a medium sized pot on medium heat add in the butter and melt. Next whisk in the flour and combine. Pour in the milk while continuing to whisk and turn the heat to high until it the sauce becomes thick.
Finish the sauce by whisking in the shredded cheddar cheese. Keep warm.
To Plate: Place the tater tots in a bowl and pour on the cheese sauce. Next layer on the chopped chicken, drizzle of sour cream, olives, tomatoes, jalapeños, green onions and optional crispy bacon.