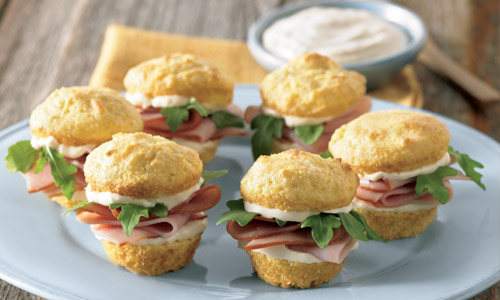 Recipe At A Glance
8 ingredients
15-30 minutes
8+ Servings
An easy and fun party appetizer!
Sponsored By

Recipe Ingredients
8.5 oz. package corn muffin mix
1 large egg
1/3 c. 2% milk
1/3 c. Daisy Sour Cream
1 Tbsp. peach preserves
2 tsp. Dijon mustard
3 oz. deli baked ham, very thinly sliced
1/2 c. baby arugula leaves
Recipe Directions
Heat the oven to 400 degrees. Spray 20 mini muffin cups with cooking spray.
Mix the muffin mix as directed on package, using the egg and milk. Spoon the mixture into muffin cups, filling almost full. Bake for 10 to 12 minutes or until golden brown. Remove from the pans and cool for 30 minutes.
Meanwhile, in a small bowl, mix the sour cream, preserves and mustard.
Split each mini muffin horizontally. Spread the sour cream mixture over the cut sides of the muffins.
Cut the thin ham slices in 1 1/2" strips. Pleat to fit the muffins. Fill each muffin with the ham and a couple of arugula leaves.
Other Recipes You Might Like