Greek-Style Chicken Tostadas with Yogurt Sauce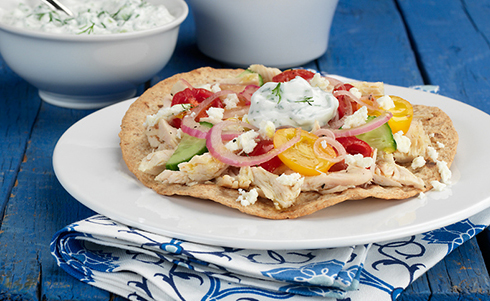 Recipe At A Glance
12 ingredients
Over 30 minutes
6 Servings
Gear up for the big game with a Greek-inspired recipe that can easily be served as a party appetizer, snack or as part of a celebratory dinner! This recipe was created for Easy Home Meals exclusively by Chef Aida Mollenkamp.
Recipe Ingredients
6 (8-inch) refrigerated whole wheat flour tortillas or 6 whole wheat pitas
5 Tbsp. olive oil, divided
½ cup red wine vinegar, divided
1 tsp. granulated sugar
Salt and freshly ground black pepper
1 medium red onion thinly sliced
1 large cucumber
1 cup plain Greek-style yogurt
1 Tbsp. finely chopped fresh mint or dill
4 oz. cherry or grape tomatoes, sliced in half (about 1 cup)
3 oz. crumbled feta cheese
3 cups shredded cooked chicken (about 1 1/2 pounds chicken) or already pre-cooked, packaged chicken
Recipe Directions
Heat oven to 400°F and place the rack in the middle of the oven. Arrange tortillas on a baking sheet, brush tortillas with 1 tablespoon of the olive oil, and bake until golden brown and toasted, about 5 minutes, then flip over and bake for another 5 minutes. Set aside until ready to use.
Meanwhile, combine ¼ cup of the vinegar with the sugar and ¼ teaspoon salt in a bowl and add sliced onions. Stir to coat the onions and set aside for at least 5 minutes and when ready to use the vinegar mixture.
Meanwhile, make the tzatziki yogurt sauce. Chop half of the cucumber into a small dices then combine with the yogurt, 2 tablespoons of the vinegar, 1 tablespoon olive oil, mint or dill herbs, and a pinch of salt and pepper. Stir to combine, taste, and add more salt or pepper as desired.
Next, slice the remaining cucumber in half lengthwise and then crosswise into half-moon shapes. Toss the sliced tomatoes and cucumbers with 1 tablespoon of the olive oil and a pinch of salt and pepper. In another bowl toss shredded chicken with 2 tablespoons of the olive oil, 2 tablespoons of the vinegar, and a pinch of salt and pepper.
Assemble tostadas by dividing chicken, tomatoes, cucumber, feta, and onions among tostadas. Top with a bit of the yogurt sauce and serve.