Gingerbread Crunch Magic Cake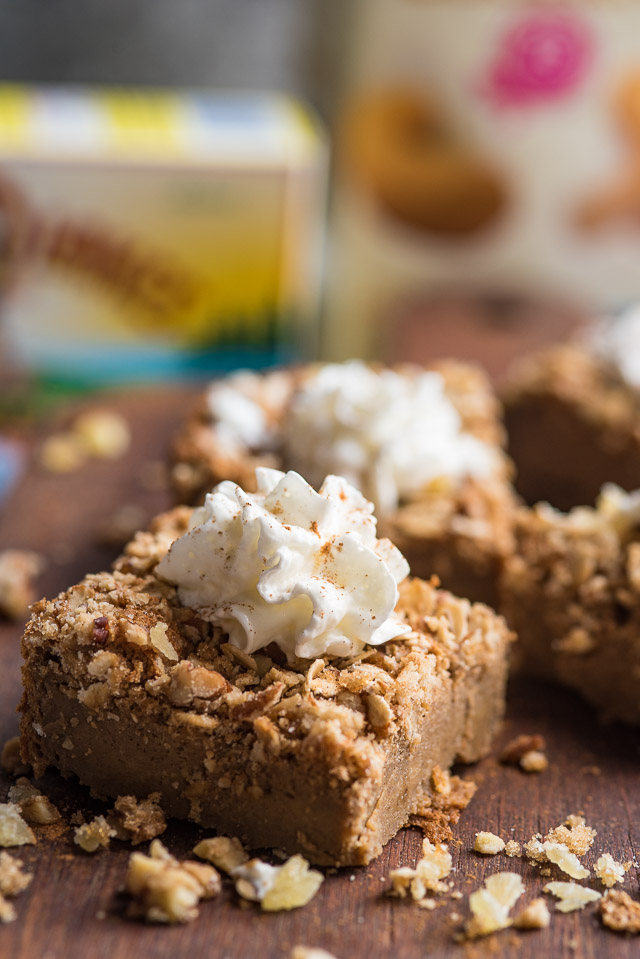 Recipe At A Glance
17 ingredients
Over 30 minutes
8+ Servings
This winter wonderland recipe from The Adventure Bite is a festive twist with a dash of spice on your traditional holiday cake. This layered cake topped with crunchy gingerbread and cool whipped topping is perfect for a holiday get-together.
Featured Product
Land O' Lakes Salted Butter
Recipe Ingredients
4 eggs, separated
¾ cup sugar
4 tbsp molasses
½ cup Land O' Lakes butter
1 teaspoon vanilla bean paste
3 tsp pumpkin pie spice
2 tsp ginger
1 cup all purpose flour
2 cups Silk cashew milk, slightly warmed
Streusel:
2 tablespoons butter
2 tablespoons brown sugar
¼ cup flour
½ cup pecans, chopped
½ cup old fashioned oatmeal
¼ cup chopped candied ginger
½ teaspoon cinnamon
Recipe Directions
Preheat oven to 325 degrees F.
Grease an 8×8 baking dish (we prefer metal as it heats faster and creates more distinct layers in our testing).
Beat egg whites in a mixer with whisk attachment to stiff peaks (when lifted whisk out of egg whites the peak formed should stay straight up and not collapse at top). Remove from mixer and set aside.
Beat yolks with sugar until visibly lightened and fluffy about 4 minutes. Add molasses, melted butter, vanilla bean paste, spices and flour slowly.
Add warmed cashew milk and beat until combined.
Add egg whites to batter and fold or whisk them in. Batter will NOT be smooth and should be lumpy still.
Pour into greased baking dish. Bake for 50-70 minutes. Ovens greatly vary so check at 50 minutes and gently shake the rack. If the center is unset and very wobbly it needs more time. The top may over brown before the middle is fully cooked so tent with foil on top if this occurs. We have much better results with metal pans over glass and recommend them. The size is also crucial for layer formation so do not substitute with a larger or smaller pan.
Streusel:
In a large saucepan melt butter. Add sugar and stir until bubbly.
Add flour, pecans, oatmeal, ginger and cinnamon. Toss together and cook for 2-3 minutes until well combined.
Pour over cake top and allow entire cake to cool completely. Can be chilled for an even firmer texture.
Top with whipped cream, sprinkle with powdered sugar & cinnamon and serve in small slices. Lovely with coffee.