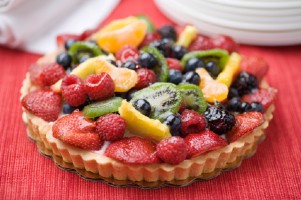 Recipe At A Glance
7 ingredients
Over 30 minutes
8+ Servings
In this recipe, the fresh fruit is the star of dessert.
Sponsored By

Recipe Ingredients
4 Large NestFresh Eggs
1 Cup sugar
2 Cups milk
1 Teaspoon flour
1 Teaspoon vanilla
1 Pie crust
1 Cup sliced fresh fruit (strawberries, peaches, etc.)
Recipe Directions
In a large bowl, mix sugar, flour, milk, eggs and vanilla. Pour mixture into pie crust and bake at 350 degrees for 45 minutes. Chill for 2 hours. Top with fruit.
Other Recipes You Might Like