Flatbread with Potatoes, Blue Cheese, Bacon and Scallions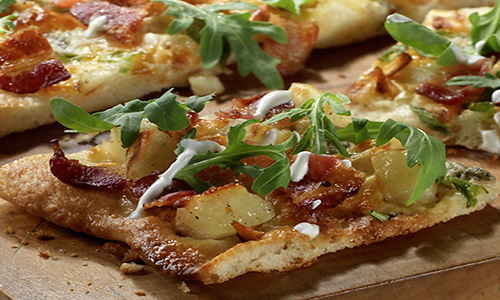 Recipe At A Glance
11 ingredients
15-30 minutes
8+ Servings
An elegant, easy spin on the flatbread pizza from our dairy-aisle expert, Chef Aida Mollenkamp.
Recipe Ingredients
1 1/2 Tbsp. olive oil
2 cups Simply Potatoes® Diced Potatoes with Onions
1/2 tsp. Kosher salt and freshly ground black pepper
6-oz. thinly sliced bacon (about 6 slices)
1 (11-oz. container) Pillsbury® Thin Crust Refrigerated Pizza Dough
1 1/2 cups (about 5-oz.) shredded mozzarella cheese
4 scallions, trimmed and thinly sliced
4-oz. crumbled blue cheese
1 cup baby arugula (about 1-oz.) for garnish
1 Tbsp. milk
1/4 cup sour cream, for garnish
Recipe Directions
Heat over to 400 F and arrange a rack in the middle.
Toss olive oil with diced potatoes and season with 1/2 teaspoon of salt and freshly ground black pepper. Cook potatoes in a pan according to package directions, until knife tender (about 10 minutes). Set aside to cool slightly.
Meanwhile, place bacon in a large frying pan and cook over medium heat until crisp, about 5 minutes. Remove to paper towel-lined plates to drain and set aside; crumble once cool enough to handle.
When ready to assemble, line a rimmed baking sheet with parchment paper. Unroll dough onto baking sheet and scatter mozzarella over the top. Scatter potatoes over mozzarella, top with scallions then blue cheese. Bake until potatoes are fork tender, cheese is melted, about 20 minutes.
Cut into 10 or 12 pieces and top with bacon then arugula. In a small bowl, mix the sour cream and milk and drizzle over the pizza. Serve immediately.