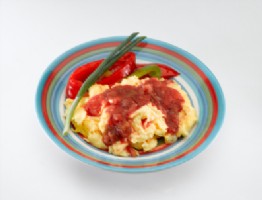 Recipe At A Glance
6 ingredients
Under 15 minutes
6 Servings
We love this simple breakfast recipe that uses salsa and green chilis to add a kick to your morning.
Sponsored By

Recipe Ingredients
1 Large NestFresh Egg (beaten)
2 Cups grated cheese (low-fat or regular)
1 8-ounce can diced green chilies
6 corn tortillas chopped
1 cup salsa
1 cup sour cream (fat-free, low-fat or regular)
Recipe Directions
Combine all ingredients except salsa and sour cream in bowl. Spray non-stick pan with cooking spray. Cook stirring frequently until eggs are cooked. Top with salsa and sour cream and serve.