Edamame Kale and Sweet Cherry Salad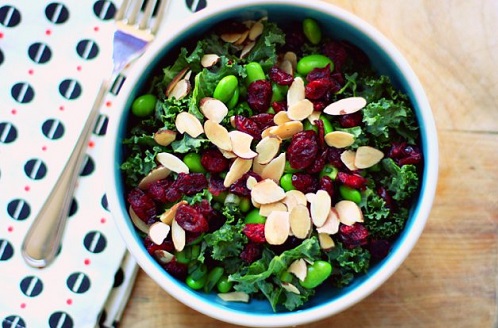 Recipe At A Glance
6 ingredients
Under 15 minutes
4 Servings
Our Cool Food Panelist, Estela from Weekly Bite is celebrated February National Heart Month with this beautiful salad! With frozen or fresh kale and edamame as the stars, this vibrantly colored salad not only looks delicious but is nutritious and packed with flavor! Perfect for spring and summer picnics!
Recipe Ingredients
4 cups fresh chopped kale (if fresh is unavailable, kale leaves can be found in the frozen food section.
2 cups frozen shelled edamame
1/4 cup chopped scallions
1/2 cup dried cherries (dried cranberries can be substituted)
1/4 cup slice almonds
2-3 Tbsp. of your favorite vinagrette
Recipe Directions
Combine all ingredients in a large bowl, gently toss together with your favorite dressing and serve.
Other Recipes You Might Like