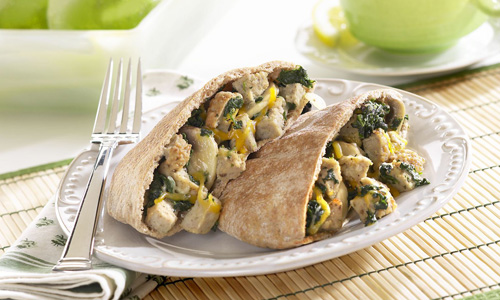 Recipe At A Glance
9 ingredients
Under 15 minutes
4 Servings
A fresh and filling pita stuffed with turkey, spinach, mushrooms, and cheese!
Sponsored By
Recipe Ingredients
1 – bag Rosina Turkey Meatballs
3-4 Tbsp. butter
1 small onion, diced
1 – 10 oz. box of frozen chopped spinach, thawed and squeezed dry
2 cups fresh or canned sliced mushrooms, drained
Salt and pepper, to taste
1 tsp. each of onion powder, garlic powder
1 cup of shredded Monterey Jack Cheese
4 large pitas, cut in half crosswise
Recipe Directions
Defrost meatballs in microwave oven for 1 minute.

Cut into small chunks. Place butter and diced onion in a microwave safe dish (approx. 8" x 8").

Cover and microwave on high for 2 minutes, stirring half way through.The onions should be soft. If not, microwave for an additional minute.

Stir in chopped spinach, sliced mushrooms and spices. Cover and microwave on high for an additional 1-1/2 minutes.

Add meatballs and mix. Microwave on high for an additional 3 minutes or until the meatballs are heated through.

Stir in cheese.

C

over dish and microwave at 50% power for 1 minute or until cheese melts. Stir again. Spoon into each pita half and serve.
Other Recipes You Might Like