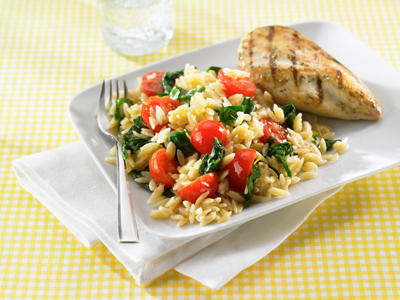 Recipe At A Glance
9 ingredients
15-30 minutes
4 Servings
This colorful pasta dish is a quick weeknight meal.
Copyright © 2013 Land O'Lakes, Inc.
Sponsored By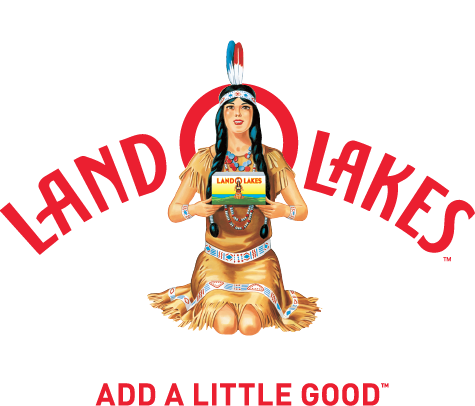 Recipe Ingredients
8-oz. (1 1/4 cups)

uncooked dried orzo pasta

4 Tbsp. Land O Lakes Butter® with Olive Oil & Sea Salt

1 1/2 tsp.

finely chopped fresh garlic

1 (6-oz.) pkg. (6 cups)

fresh spinach, stems removed

3/4 tsp.

salt

1/4 tsp.

pepper

1 1/4 cups shredded Parmesan cheese
1 cup cherry tomatoes, cut in half

1 tsp.

freshly grated lemon zest
Recipe Directions
Cook pasta according to package directions; drain. Return to pan; keep warm.
Melt 2 tablespoons of Butter with Olive Oil Sea Salt in a 10-inch skillet until sizzling. Add garlic; cook, stirring occasionally, 2 minutes. Add spinach, salt and pepper, continue cooking, stirring occasionally, 2-3 minutes or until spinach is wilted. Remove from heat.
Add remaining 2 tablespoons Butter with Olive Oil & Sea Salt and 1 cup Parmesan cheese to cooked pasta in pan; stir until combined. Add cooked spinach, tomatoes and lemon zest; mix well. Spoon mixture into serving dish; top with remaining 1/4 cup Parmesan cheese. Serve immediately.
Other Recipes You Might Like