Cranberry Cream Cheese Muffins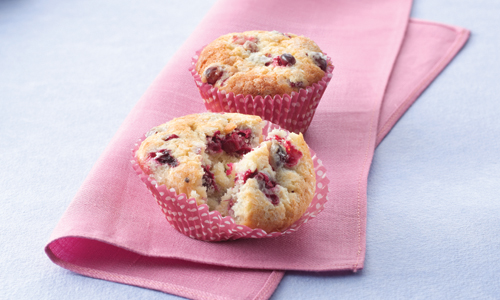 Recipe At A Glance
0 ingredients
Over 30 minutes
8+ Servings
Cranberries add a bright color and flavor to this tender sparkling-topped muffin.
©2014 Land O'Lakes, Inc.
Sponsored By

Recipe Ingredients
1/2 cup Land O Lakes® Butter, softened
4 oz. cream cheese, softened
3/4 cup sugar
1 tsp. vanilla
2 Land O Lakes® All-Natural Eggs
1 cup all-purpose flour
3/4 tsp. baking powder
1/4 tsp. salt
1 1/2 cups fresh whole cranberries
1/4 cup coarse grain white sugar
Recipe Directions
Heat oven to 350°F. Place paper or foil baking cups into 12 muffin pan cups. Set aside.
Combine butter and cream cheese in bowl; beat at medium speed until well mixed. Add sugar and vanilla; continue beating until well mixed. Add 1 egg at a time, beating well after each addition. Add flour, baking powder and salt; beat at low speed until just combined. Stir in cranberries.
Evenly divide batter among prepared muffin cups. Sprinkle coarse grain sugar over top of each muffin. Bake 21-26 minutes until tops begin to brown on edges and toothpick inserted into center comes out clean. Cool 2 minutes in pan; remove to cooling rack.
Serve warm or at room temperature.