Cranberry Cream Cheese Braid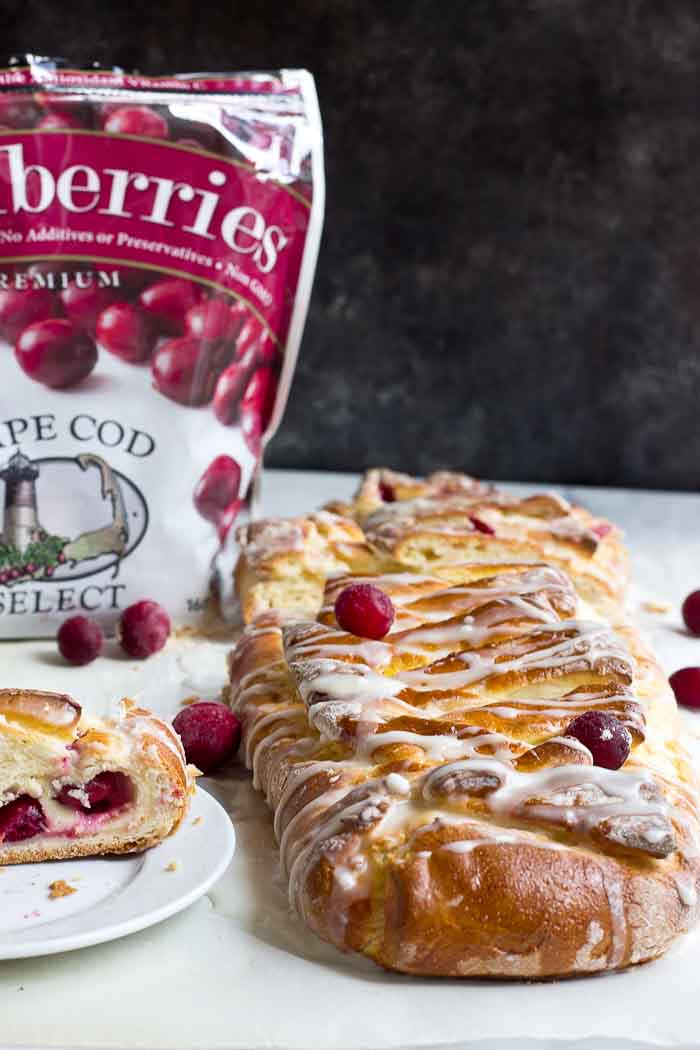 Recipe At A Glance
22 ingredients
Over 30 minutes
8+ Servings
This holiday sweet treat is packed with Cape Cod Select Premium Cranberries and is a dairy inspired dessert for your festive feasts. This treat is brought to you by Love and Zest.
Featured Product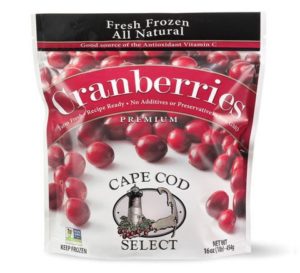 Cape Cod Select Premium Whole Cranberries
Recipe Ingredients
Cranberry Braid
¼ cup unsalted butter
¼ cup granulated sugar
½ cup sour cream
½ teaspoon kosher salt
¼ cup water
1 (¼ ounce) package fast acting instant yeast
1 egg
2 cups all purpose flour
¾ cup Cape Cod Select Frozen Cranberries
Cream Cheese Filling
8 ounces Philadelphia Cream Cheese, softened
¼ cup 100% pure maple syrup
2 teaspoons vanilla extract
1 egg
3 tablespoons all purpose flour
Egg Wash
1 egg, whisked
Vanilla Glaze
¼ cup powdered sugar
½ teaspoon pure vanilla extract
2 tablespoons milk
Recipe Directions
In a small sauce pot, heat butter over medium until melted. Whisk in sugar and salt until dissolved. Stir in sour cream and heat just until bubbling. Remove from heat and cool to lukewarm temperature.
Warm ¼ cup water over stove top or in microwave safe bowl and sprinkle yeast in and stir. Allow to soak for 5 minutes.
Whisk sour cream mixture into yeasty water until combined. Continue whisking while adding egg. Add flour slowly and stir in just to combined (don't overmix), dough will be very sticky. Cover and chill for at least 8 hours.
Mix up the Cream Cheese Filling: Add cream cheese, maple syrup, vanilla extract, and an egg to a mixing bowl. Whip with a mixer until cream cheese is smooth. Sprinkle in flour and continue whipping to thicken cream cheese filling.
Preheat oven to 375 degrees F and roll out the dough: Heavily flour a clean and cool surface. Remove dough from bowl and place on surface, dusting with extra flour. Knead the dough a few times, and place on parchment paper before rolling for easy transfer to baking sheet. Roll out the dough with a rolling pin into a long rectangle.
Spread cream cheese on inner ⅓ of dough leaving room on ends and sides to braid. Top cream cheese filling with ¾ cup frozen cranberries.
Using kitchen shears, cut sides of dough into 1 inch thick pieces, aiming to keep slices even on both sides. Braid the dough (see video for example!), by folding up the ends and alternating sides to stretch the dough in a crisscross manner. Once dough is braided, use a pastry brush to apply the egg wash (this gives it a golden color).
Transfer Cranberry Cream Cheese Braid with parchment paper to a baking sheet, and bake in 375 degrees F oven for 20-25 minutes until golden in color.
Allow to cool slightly on baking sheet; meanwhile prepare the Vanilla Glaze: Whisk together powdered sugar, vanilla extract, and milk. Drizzle glaze onto Cranberry Cream Cheese Braid; slice when ready to serve. Serve slightly warm or room temperature.