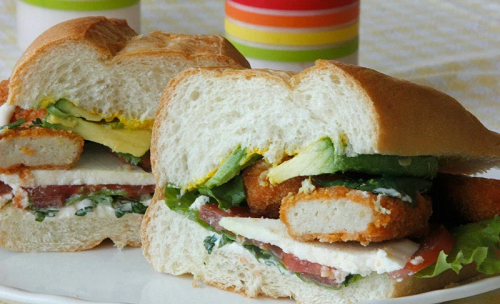 Recipe At A Glance
11 ingredients
15-30 minutes
8+ Servings
If you like chicken nuggets, then you'll love this Chicken Nugget Torta recipe from Mama Latina Tips!
Recipe Ingredients
1 bag Tyson Fun Nuggets or Tyson Chicken Nuggets
4 tablespoons sour cream
4 tablespoons mayo
12 cilantro sprigs, washed, divided
8 bolillos (found at almost any grocer that serves the Latino community or a Mexican bakery. You can also use French rolls)
Yellow mustard to taste
8 lettuce leaves, washed
2 tomatoes, sliced
16-1/4 inch cheese slices of your choice (I like queso fresco, but you can use mozzarella, Swiss, cheddar or Monterey Jack)
2 avocados, peeled and sliced
Pickled jalapeños (optional, but really great with it)
Recipe Directions
Pre-heat oven to 350 degrees F.
Warm up chicken nuggets following the instructions on the package. For me, it took 11-12 minutes.
Mix sour cream and mayonnaise (if you can get mayonnaise with lime juice, even better). Finely chop 4 cilantro sprigs, add to cream and mayo, mix well, and set aside.
Assemble the torta.
Cut one bolillo in half transversely, spread yellow mustard on one side and cilantro-cream-mayo on the other side. Add lettuce, tomatoes, cheese, 5 chicken nuggets, avocado and a cilantro sprig. Add sliced and seeded pickled jalapeños if you wish (I love them). Repeat.