Chicken Melts with Jalapeño Lime Coleslaw and Spicy Mayo recipe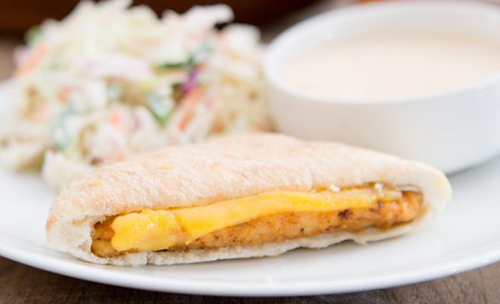 Recipe At A Glance
11 ingredients
15-30 minutes
5 Servings
Spice up a simple meal!
Recipe Ingredients
For the Jalapeño Lime Coleslaw
1 16 oz. bag Cole Slaw mix
2 – 3 jalapeños seeded, deveined and chopped
1/3 c. chopped red bell pepper
1/4 c. chopped red onion
1/3 c. mayonnaise
the juice of 2 limes
salt and pepper to taste
For the Spicy Mayo
1/4 c. Mayonnaise
2 – 3 dashes Hot Sauce
1/4 tsp. cumin
the juice of 1 lime
Recipe Directions
Heat Sandwich Bros. of Wisconsin Chicken Melt Sandwiches per package directions.
Add all ingredients for coleslaw into a large bowl and mix well. Set aside.
Add all ingredients for spicy mayonnaise to a small bowl and mix well. Serve Chicken Melt Sandwiches with Jalapeño Lime Coleslaw and Spicy Mayonnaise for dipping.
Other Recipes You Might Like