Cheese Tortellini with Peas and Pancetta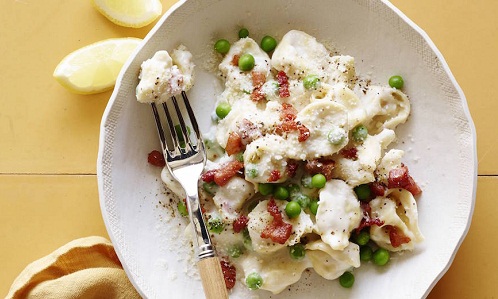 Recipe At A Glance
11 ingredients
15-30 minutes
6 Servings
Comforting cheese tortellini dish with peas and pancetta. Easy to make and delicious!
Recipe Ingredients
1 lb. frozen Celentano Tortellini cheese tortellini
4 oz. chopped pancetta
1 Tbsp. butter
2 cloves garlic, roughly chopped
1 Tbsp. flour
1 2/3 cups milk
1 cup frozen Green Giant peas, thawed
¼ cup grated pecorino cheese, plus more for sprinkling
¼ cup grated fontina
Lemon wedges as needed
Salt and pepper
Recipe Directions
Bring a large pot of water to a boil.
Add the frozen peas to the boiling water for 30 seconds, just until warmed through. Remove and set aside.
Add the tortellini to the same water and cook according to the package directions. Once cooked to al dente, drain and set aside.
Place the pancetta in a medium skillet over medium high heat. Cook the pancetta, rendering the fat, until the pancetta is crispy. Remove the pancetta to small plate leaving the fat in the skillet.
Add the butter to the same skillet over medium high heat. Add the garlic and sauté for 30-45 seconds before adding the flour and stirring to combine. Gradually whisk in the milk and bring the mixture to a boil.
Once the sauce thickens, season with salt and pepper and stir the tortellini, peas and the grated cheese into the sauce, stir to combine. Add half of the cooked pancetta back into the sauce.
Add a squeeze or two of lemon juice and serve with the remaining pancetta as garnish.
Other Recipes You Might Like