Cheddar Jack Creamed Spinach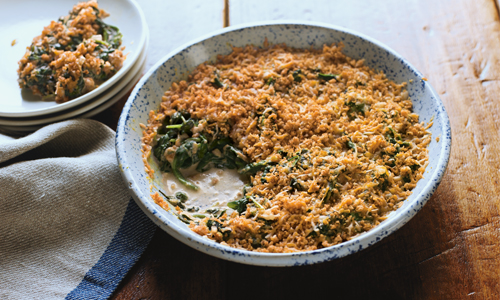 Recipe At A Glance
6 ingredients
Over 30 minutes
6 Servings
A delightful dish of creamed spinach, full of mouthwatering cheesy bacon flavor. Yum!
Recipe Ingredients
1/2 cup chopped onions
2 cloves garlic, minced
2 tsp. oil
2 pkgs. (9-oz. each) baby spinach leaves,
4-oz. (1/2 of 8-oz. pkg.) Philadelphia® Cream Cheese, cubed
1 pkg. (6-oz.) Kraft® Fresh Take® Cheddar Jack & Bacon Recipe Cheese Breadcrumb Mix
Recipe Directions
Heat oven to 350 degrees.
Cook onions and garlic in oil in large skillet on medium heat for 3 minutes, stirring frequently. Add spinach; cook and stir for 4 minutes or just until wilted. Drain.
Add cream cheese and half of the Fresh Take to spinach mixture; mix well. Spoon into 9-inch pie plate sprayed with cooking spray; top with remaining Fresh Take.
Bake 10 to 12 minutes or until spinach mixture is heated through and topping is golden brown.
Other Recipes You Might Like