Black Bean Tamale, Chicken and Cheese Casserole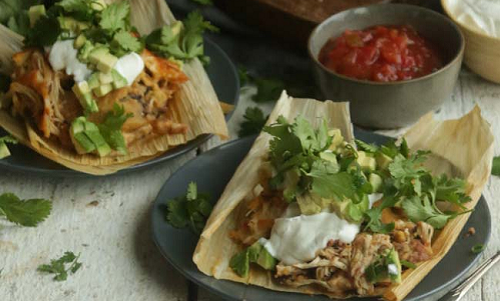 Recipe At A Glance
9 ingredients
Over 30 minutes
6 Servings
Looking for a delicious way to start off your new year? Try Chef Billy Parisi's healthy Black Bean Tamale, Chicken and Cheese Casserole!
Featured Product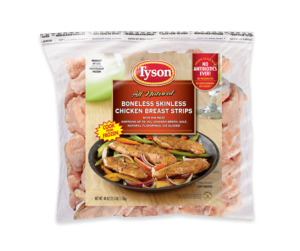 Tyson® Boneless Skinless Chicken Breast Strips
Recipe Ingredients
6 Tyson® frozen chicken breasts
4 cups of your favorite salsa
1 cup of refried pinto beans
12 frozen and heated Texas Tamale Company® black bean tamales
2 cups of Kraft® Mexican Four Cheese Blend
Daisy® Sour Cream for garnish
Sliced green onions for garnish
Fresh cilantro leaves for garnish
Sliced avocado for garnish
Recipe Directions
For the shredded chicken:
Place the Tyson® frozen chicken breasts and salsa in a slow cooker and cook on high for 6 hours. Pull the chicken apart using two forks and keep warm.
For the casserole:
Preheat the oven to 375°.
Spread the refried beans evenly on the bottom of a medium size casserole dish. Then place the heated tamales, husks removed, on top of the beans and cover with 2 cups of shredded chicken and 2 cups cheese.
Bake the casserole in the oven for 30 minutes or until the cheese is melted and lightly browned.
Garnish with Daisy® sour cream, sliced green onions, cilantro leaves, and avocado slices.